Australia surrounded by oceans has unique location. Not only has Australia ancient rainforests but also this country has a number of beaches attraction visitors from all over the world. Create your own adventure with our list of the most attractive destination in Australia:
1. Sydney Opera House
Located in Sydney, New South Wales, Sydney Opera House is one of the 20th century's most famous and distinctive building.
Sydney Opera House, owning unique architure, features shell roofs. As a result, it is listed within UNESCO's World Heritage Sites.
There are 1500 different performances including concert hall, drama theatre, playhouse, studio and forecourt are taken place in here; therefore, Sydney Opera House attacts million of visitors every year. Today, visitors can take a tour in building or dine at one of the restaurants and watch sunset in Sydney Habour.
2. Great Barrier Reef, Queensland
One of the seven natural wonders which can seen from space, Great Barrier Reef is the largest coral reef system in the world. This coral reef system have 2900 individual reef system stretching over 2300 kiometers.
In addition, the diversity of undersea habitat is a reason why Great Barrier Reef attacts 2 million visitors every year. Over 1500 species of fishes, 6 species of sea turtles,… are discovered in here. So as to enjoy marine life, snorkeling and scuba diving is the best way. If you cannot experience these activities, cruises, submarine and helicopters are available.
3. Kakadu National Park, Darwin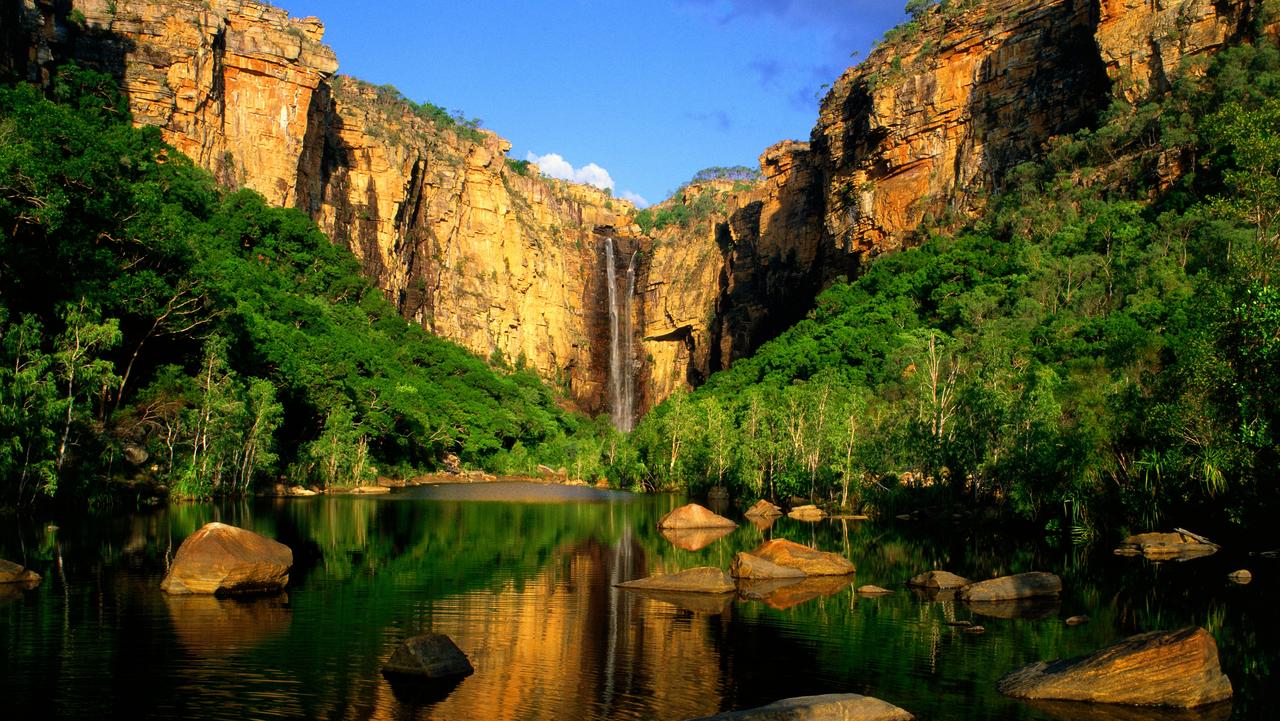 Kakadu National Park is about 171 kilometers from Darwin center to the southwest. Kakadu National Park has the diversity of environment: over 290 species of bird, 120 species of retiles,…Besides, Kakadu own the greatest number of saltwater crocodile in the world and kangarooes.
Over 550 native people live in Kakadu. They always ready to tell guests the tale of land and the legend of war period.
4. Bondi Beach, Sydney
Bondi Beach is a popular beach in Australia. Located 7 km east of Sydney central business district, it is one of the most visited tourist sites in Australia.
Coming Bondi Beach, visitors can take part in sports and receations held in here such as: scuba diving, suft livesaving,…Furthermore, visitor certainly have a meal with tasties seafoods in nearby restaurants.
5. Uluru , Central Australia
Uluru, also known as Ayers Rock, is a large sandstone rock formation in the central Australia. It is 2,6 km in lenth and 1,9km in width. Uluru sank undersear 600 milion years ago, now, it become a house for anagu tribe.
Not only does Uluru attact seachers coming in oder to investigate and explore, but this destination draw travelers' attention because of geography and history.
Visitors can also number of orange-red rock caves result from the oxidation of iron and ancient paintings describing the life in the past.