Umngot or Crystal river (glass river) – one of the cleanest rivers in India is a river located in Dawki or Dauki – a town in West Jaintia Hills district, Meghalaya, India. Emerald is the color that you can see where the clear river shines the color of the moss clinging to the gravel and rocks in the deep water.
Originating from the hills beyond Jaintia, then running between the natural border lane between the mountains of Jaintia and Khasi, the Umngot line to Dawki has a very charming background. Very close is the suspension bridge, the further green hills and mountains.
Book a small boat and slowly enjoy the crystal clear water of this beautiful river, from the seat of your boat, you can feel like you are floating in the air because from that position, you can see the bottom of the river, the water is just like an invisible mirror that every rock or moss under the river is easily appear.
When lying on a boat, flow with the river, just relax your mind and look down to the bottom of the river.
The river is clear, clearly visible pebbles and rocks on the bottom of green moss, looking down from the boat, only transparent clear water. You must see from a distance, from high above you can see the shimmering emerald color. There are a few sections with moss, transparent water, looking like the boat is floating in the air, very unique.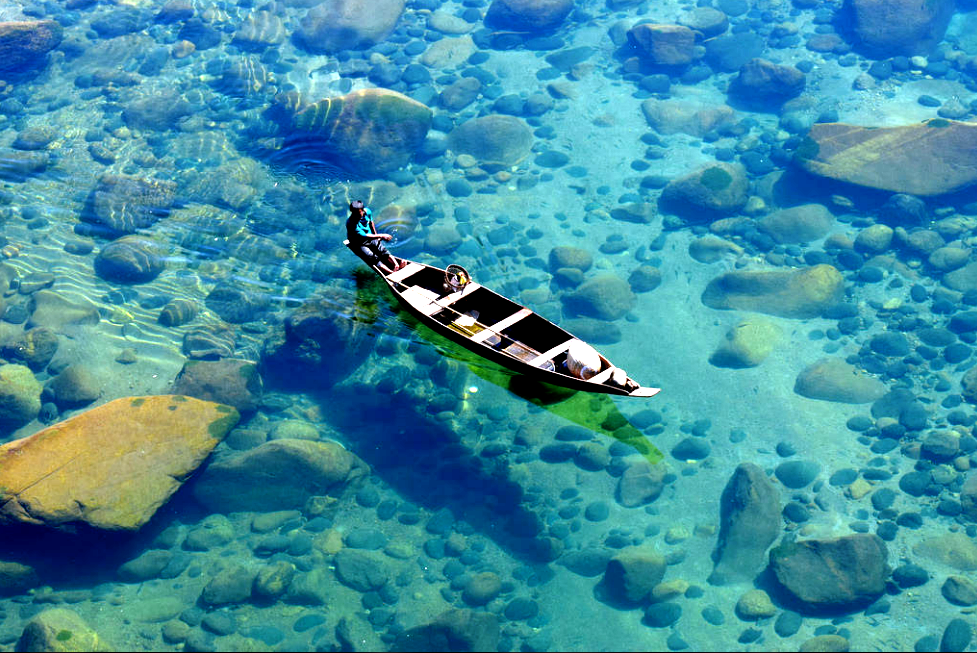 On the boat upstream, conspicuous before reaching Dawki, the Umngot had to struggle through the immense shallow rocks. Perhaps that is the reason why the dirt and silt were retained to make the river transparent, because just past Dawki and the sand dunes, the river below was no longer clear. So it can be said that the beautiful river is a special natural gift for Dawki.
Besides riding along this crystal clear river, you can visit the clearest village in Asia – Mawlynnong, it will definitely change your impression about India that is known for the most polluted city in the world.
Coming to Umngot river and Mawlynnong, you can release all your stress and just need to focus on breathing with the fresh air and be immerse with the nature. Moreover, you can have a chance to know more about the daily life of local through their daily activities and enjoy home-cooked specialties.