Every region has its own unique cuisine. Cuisine is one of the reason why tourists arrive at a country. In Australia, as well as animal and geography, visitors are falling in love its dishes.
1. Grilled Kangaroo
The Kangaroo being a marsupial is indigenous to Australia. In addition to biology and economy, Kangaroo has the benefit of cuisine.
Grilled kangaroo tastes like a mixture if venison and buffalo meat. However, it is not as dry as deer and leaner than the meat from buffalo.
Because of high in protein and low in fat, Kangaroo meat cannot be cooked in the same way as other red meals; therefore, slow-cooking or quickly stir-frying is recommended for Kangaroo.
2. Lamingtons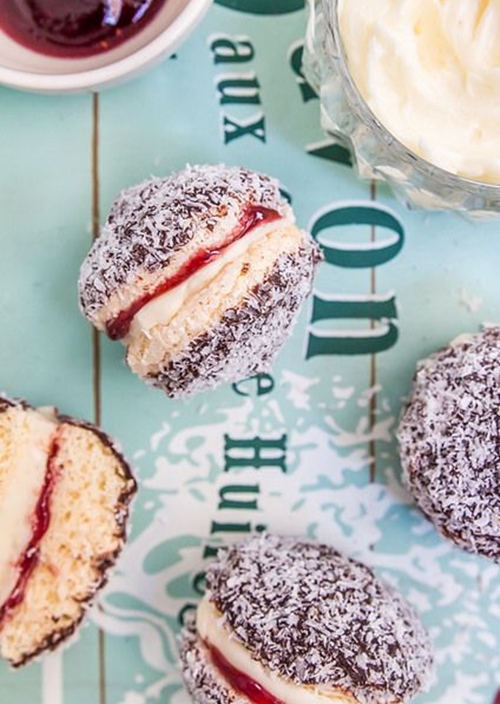 Sweet Lamington is popular in Australia countries. In Australia, Lamington is found to be carefully packaged in supermarket or served in high-quality bakeries and restaurants.
Formed by many ingredients and hues, this squared-shaped Lamington make people love at first sight: fruit jams or cream in the middle, chocolate icing outside and desiccated coconut.
Australia goverment made a desicion that 21/7 every year is referred to as the "National Cake of Australia".
3. Pavlova
Named after famous Russian ballet Anna Pavlova, this cake make the world fall in love with its taste.
Pavlova made by meringue (a mixture of granulated sugar and egg whites), no flour, no butter, no milk,…. Besides, Pavlova is always dined with sour fruits (strawberry, kiwi,…) so as to balance your mouth.
By its uniqueness and elegance, Pavlova catchs the diners'eye from beginning.
4. Vegemite on toast
Little Vegamite are usually used for breakfast, sometimes it served for luch and teabreak. It all began in 1922 by Fred Walked Company; this company wanted to invent a new product that is rich in Vitamin B.
For Vegemite on toast, slices of white bread need to be hot and toasted. After that, butter is generously smeared on the hot toast, which allows the butter to melt.
It needs to be spread over toast and butter in a fine, thin layer that you can see through, since it accentuates thhe flavours that are already present. It adds a bit of depth, savoriness and richness to plain buttered toast, which is probably the reason why it is so beloved by the Australians and commonly found in travellers's backpacks, as a tiny reminder of home.
5. Barramundi
The Barramundi is one of the most Australia's popular foodfishes. It is well known and grace tables of top restaurants around the world.
Barramundi can be fried, grilled, barbecued, baked,…. For excellent results, barbecue and then serve with a fressing of lemon and dill bitter sauce, or add to an Asian-style stir-fry.
In oder to have Australian experience, wrap whole barramundi stufes with lemon aspen or muntharies in paperbark leaves, then bake. This can be serve with lemon myrtle butter and roasted macadamias. The Aborigines traditionally wrap barramundi in the leaves of the wild ginger plant and bake it in hot ashes.