Japan lie on Pacific Ring of Fire – the most seismically and volcanically active zone in the world; therefor, this nation has a number of hot springs (onsen in Japanese). Taking in onsen become a popular activity for citizens and foreigners.
1. Shinbu Onsen
Shibu Onsen in Yamanouchi proves to be one of the most special onsen towns in this country, since it attracts not only humans but our primate friends as well! Many visit Shibu's monkey park just to catch snow monkeys soaking themselves in the hot and therapeutic waters.
Other than the monkey park, Shibu Onsen is also well-known for its many bathhouses, each serving to cure a different illness. Visitors are encouraged to do a bathhouse tour, by visiting all nine bathhouses in the town and collecting stamps on bath towels. It is said that those who do this will be blessed with good luck!
2. Beppu Onsen
What sets Beppu apart from other onsen resorts is not only its abundance of thermal waters, but also the wide range of bath types that can be enjoyed there. Aside from conventional hot water baths, Beppu offers sand baths where bathers are buried in naturally heated sand, steam baths that are heated by the steam of a hot spring, and mud baths which are basically muddy hot water baths.
3. Kusatsu Onsen
It is the largest natural flow of hot spring water in all of Japan, much of which surfaces at the Yubatake in the town center. The sulfurous, highly acidic waters have been considered among Japan's best for centuries, and the resort town has constantly occupied a top spot in onsen rankings. It is difficult to beat Kusatsu in terms of quality and quantity of its waters.
Kusatsu's waters can be enjoyed at the town's public baths and ryokan. The most prominent public baths are the Sainokawara Rotemburo, the Otakinoyu with its unique Awaseyu baths that features multiple wooden pools with different water temperatures, and the Gozanoyu, a beautiful wooden building next to the Yubatake with two simple, traditional baths.
4. Hakone Onsen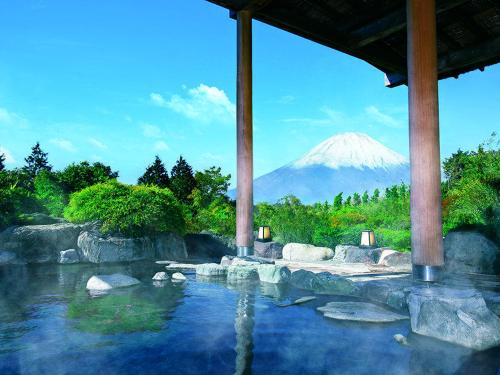 Hakone has been one of Japan's most popular hot spring for centuries. Nowadays, more than a dozen springs provide hot spring water to the many bath houses and ryokan in the Hakone region.
Visitors can enjoy a hot spring bath in public bath houses or ryokan. Many ryokan open their baths not only to staying guests but also to daytime visitors