Not only attractive to the beautiful beaches or magnificent historical sites of the Maya civilization, Mexico is also famous for the extremely special artificial beauty of the largest underwater museum in the world of Cancún.
In order to raising awareness of locals and tourists and to restore the gradually destroyed marine ecosystem in the Isla Mujeres region, the city government of Cancún has built an underwater museum with more than 400 life-sized sculptures by artist Jason de Caires Taylor.
The Cancún Underwater Museum is a non-profit organization based in Cancún, Mexico devoted to the art of conservation located in Cerrada Las Golondrinas Lote #24, Zona Hotelera, 77560 Cancún, Q.R., Mexico.
The museum has brought huge revenue to the tourism industry of Cancún ($ 36 million), and created space for coral reefs in other waters in the Yucatan peninsula to regenerate, improving resilience to later storms.
The statues are located in the waters off Isla Mujeres in a depth of about 20-30 meters. Visitors can fully dive freely or use the diving suits to admire the beauty of the museum.
The statues are depicted in different themes, shapes, postures, and expressions, which are sure to give visitors a unique experience.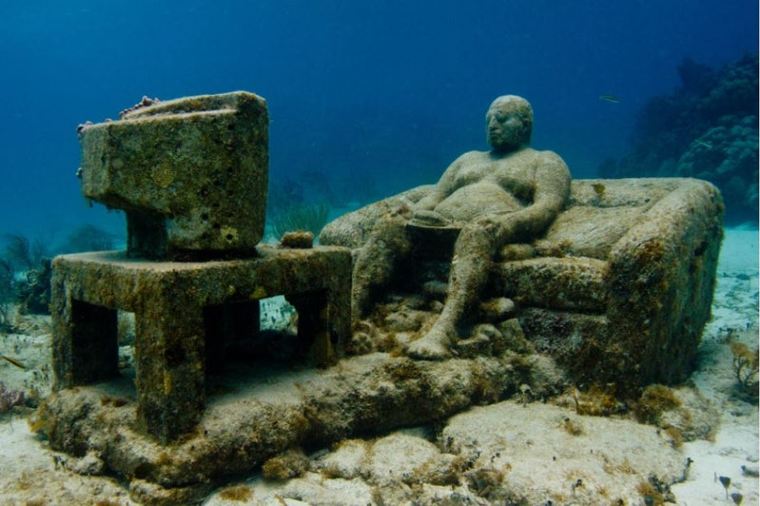 The sculptures are made from concrete with a neutral pH with the aim of creating an ideal environment for corals to live and grow.
After a while, corals will gradually grow on the statues, creating a combination of natural and artistic beauty.
The author of these masterpieces captured the faces of local people and simulated them in his artworks
"Silent Evolution".
Not only is the place where corals grow, but the statues are also home to many other aquatic species.
Each year, the Cancun Underwater Museum attracts more than 750,000 visitors. Coming to this unique underwater museum, you just only have to pay an approximate 80 pesos for one way entrance ticket. If you want to use the scuba diving, you need to pay about 140$ per person, the departure from Isla Mujeres would be at noon through the week. It will take about 5 hours to complete a diving tour.
Besides, the non-certificate diving tours from Cancun would cost you an approximate of $115 per person which departs on Monday, Wednesday and Friday, it takes 5 hours to complete too. And many other options for you to experience the scuba diving in this underwater museum.
Last but not least, remember to carry some Pesos in change as the guides work very hard to ensure you have the best of your island tour. They would expect some tip as tourism is a major source of income for these island dwellers.