Lim festival starts from 12 to 14 January of lunar calendar, it is the biggest festival in Bac Ninh province, famous for its sweet, lyrical and traditional deep folk music, typical of the Northern region.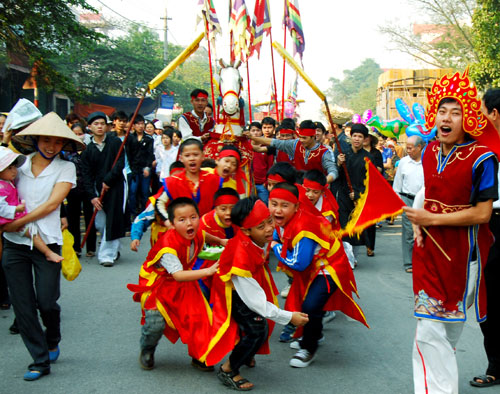 Up to now, Hoi Lim or Lim festival is considered to be a sustainably festival to preserve the beauty of this Vietnamese traditional music which has been passed down through generations. Many visitors from all over the world have come to Lim festival to live with music, poetry, costumes and fun folk games.
In this festival, people sing "Quan họ" – a traditional Vietnamese folk music. Quan ho folk songs with content praising the work of building and defending the country of national heroes, singing about the beauty of the countryside, about labor production and singing about love between couples. From singing to betel, singing to the boat to the flute to the river, the spider spreading the net makes people captivating.
At a lake next to the field of Lim village, the dragon boat painted with golden paint, one side of the boat is two men in "áo dài", the opposite side is two women in "áo tứ thân" which is also called four-part dress. They would immediately stand or sit close to the two sides of the boat and respond each other, juggling each other through each melody.
The songs are performed as alternating verses between two women from one village who sing in harmony, and two men from another village who respond with similar melodies, but with different lyrics. The more than 400 song lyrics, sung with 213 different melody variations, express people's emotional states of longing and sadness upon separation, and the happiness of the meeting of lovers, but custom forbids marrying a singing partner.
In addition, visitors can directly participate in folk games such as human chess, swing, wrestling competition, cooking. When the Lim festival ends, the clear folk songs and the image of Northern girls in colorful traditional clothes will remain forever in everyone's memories.