The Cappadocia Valley in central Turkey which is formed from sedimentary rocks and volcanic rock is one of the most famous of Turkey.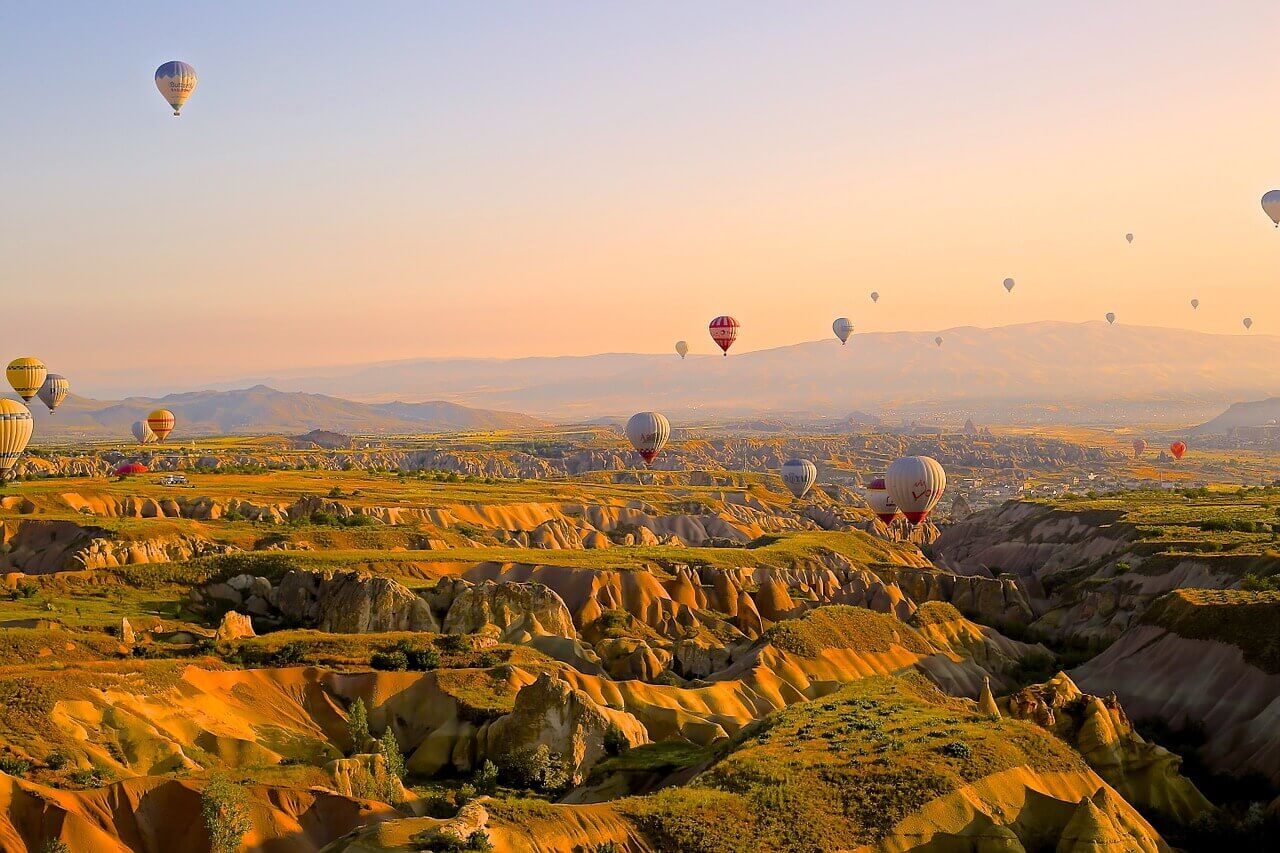 Cappadocia is in Nevsehir province, take about 290 km from Turkey's capital – Ankara. This wonder has been recognized by UNESCO as a world natural heritage since 1985.
This valley is formed from sedimentary and volcanic rocks after an eruption occurred 3 million years ago. Through the impact of nature, layers of rocks are eroded, creating many interesting shapes that are considered "unique" on the planet. It is loved by tourists all over the world for its wonderful natural beauty. With thousands of spiked stone columns like chimneys in fairy tales, this place is also known as "valley of mushrooms".
Nature in Cappadocia always makes a strong impression on anyone who comes to this land. Especially the area has a topography like "moon surface" around the towns of Urgup, Goreme, Uchisar, Avanos and Mustafapasa.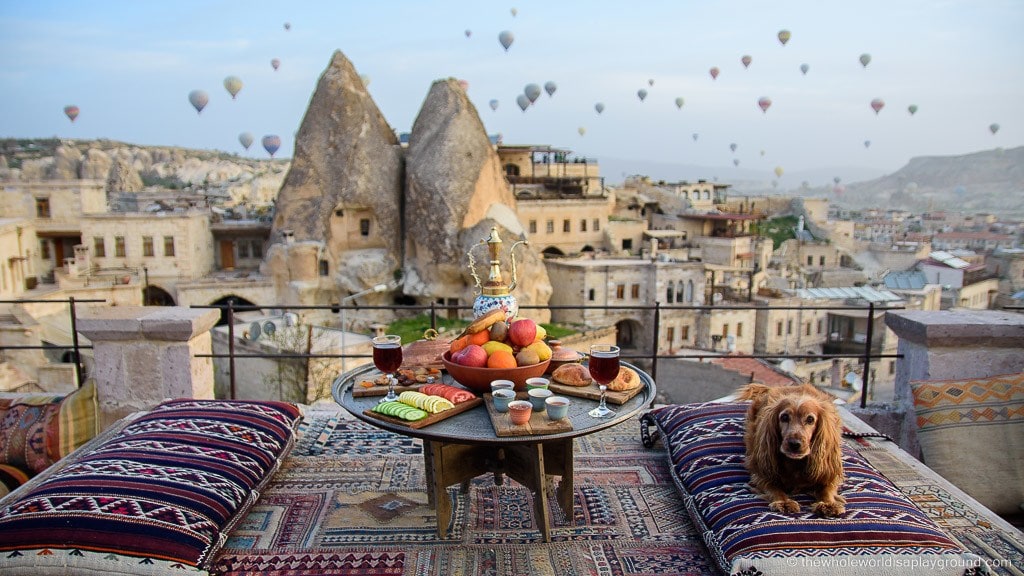 Achisar village here possesses a unique architecture from a very common material: Stone. There are stone bridges, stone caves, stone paved streets, stone cave houses, and stone housewares that will make visitors go from one surprise to another.
Thanks to the favor of nature, the people of the central region of Cappadocia have carved the stone caves into houses, monasteries and churches… These architectural works have partly shown the utmost creativity of people in Cappadocia. In this destination, you can not only gaze at limestone rocks or houses and monasteries in rock caves but also can watch cute pigeons in Dove Valley; enjoy the most delicious fruits; explore the underground cities of Cappadocia. The underground cities are Kaymakli, Ozkona, Derikuyu… which is deep in the mountain, underground cities have full rooms, many floors, enough for thousands of people to live in.
The most interesting and special experience that visitors can do while in Cappadocia is to rent a hot air balloon right away to enjoy the feeling of watching the entire valley from above. In a panoramic view Cappadocia looks like a "valley of mushrooms". At dawn, dozens of colorful hot air balloons appear in the sky, creating one of the most beautiful tourist sights in the world.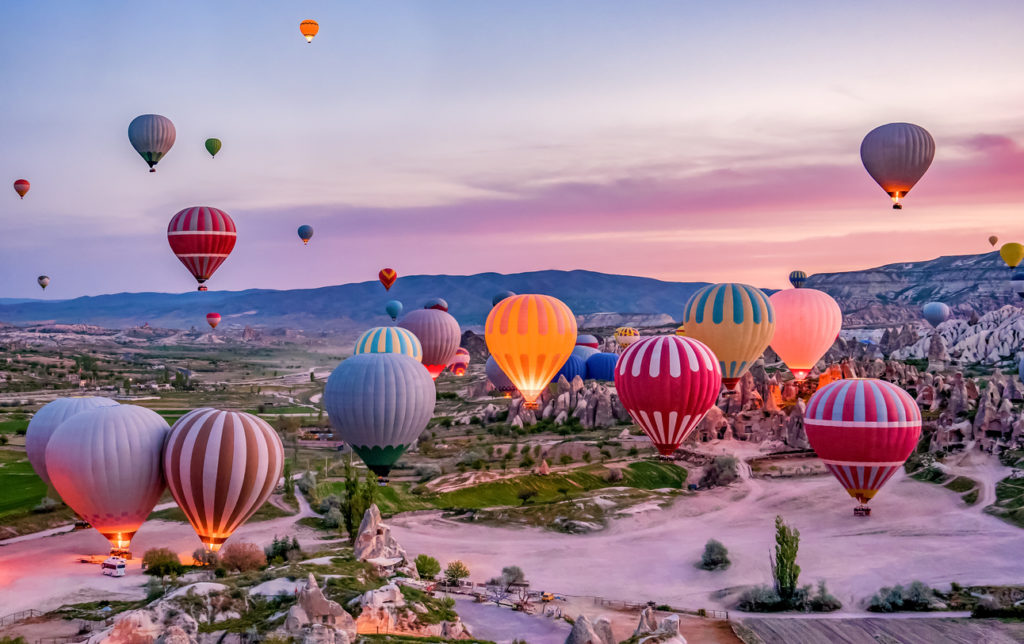 Besides that, when coming to Cappadocia, you can feast your eyes with a number of beautiful destinations such as Göreme Open Air Museum, Uçhisar fortress, the underground city of Kaymakli, Ozkonak underground city…
Göreme Open Air Museum
The Göreme Open Air Museum is home to a number of churches where medieval Christian priests chiseled the rock, a relic of intricate murals that date back 1,000 years and are places for you to learn about the East Romans who created those unique scenery.
When visiting this museum, don't forget to take a look in Karanlik Kilise (Dark Church) – home to well preserved murals or Nunnery – home to a church, dining room, kitchen and many other rooms across seven floors …
And don't miss the Aynali House and the Tokali Church (Cappadocia's largest church) which are just outside the museum. Visitting Cavusin Church before entering the underground maze at Derinkuyu Cathedral and feast your eyes with the ancient scene of the Selime Monastery complex – one of the largest cave structures in Cappadocia.
Uçhisar fortress
Uçhisar Fortress is a large stone structure soaring, this place not only is stunningly beautiful, but also hides a fascinating history that every guest wants to explore. Reaching this mountain is a great challenge that will draw you a lot of energy!
The underground city of Kaymakli
Built in the 6th to the 10th century, this 2.5km2 wide city includes many underground floors with works include bedrooms, kitchens, churches, graves, warehouses, wineries … There are only 5 underground floors of the city open to visitors. Among them, there are a few underground floors connecting the two underground cities of Mazikoy in the East and Derinkuyu in the Southeast by a path deep underground.
Ozkonak underground city
Ozkonak underground city consists of 10 floors, up to 40m deep, enough for about 60,000 people to stay for 3 months. A special feature of Ozkonak underground city is the communication system between rooms and floors. The city structure includes bedroom projects, water wells, wineries, tombs … In the city there are many long and narrow tunnels, aimed at deceiving enemies when they enter. Currently, Ozkonak underground city is only open 4 floors underground to welcome visitors.
In addition, you can visit other attractive places such as: Dove Valley, Red Valley and Red Valley, Love Valley, Sunset Cape are all beautiful places.