Tibet is a region in northeast China covering much of the Tibetan Plateau. As a result, the climate is harsh. Western Tibet receives small amounts of fresh snow each year and low temperatures are popular. Northern Tibet is tend to be hot in yhe summer and bitterly cold in the winter. However, Tibet has formed, developed its unique culture throught a flow of history.
Tibet Tea Culture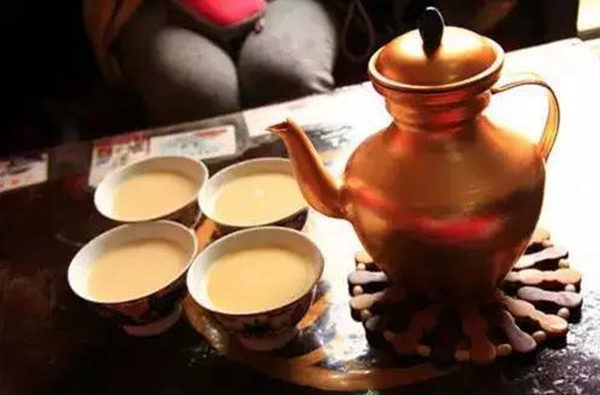 In spite of the bad weather, tea cannot be grown in Tibet. Having said that, the tea culture is prevalent. There are 2 types of tea drinks found only in Tibet: Tibetan Butter Tea and Tibetan Sweet Tea.
Tibetan Butter Tea (Salty Milk Tea)
It is the most popular tea drink in Tibet that is made from oil extracted from milk and processed with tea and salt.
Since butter became the main ingredient, Tibetan butter tea is a very warming drink, provinding lots of caloric energy and replenishing the nutritional deficiency.
Butter tea is used with tsampa (a bread made by barley flour or wheat flour) by pouring onto it or dipping and mixing well with.
This beverage is said to be drink up to 40 cups a day each person.
Tibetan Sweet Tea
It is more acceptable to tourist that Tibetan Sweet Tea is a mixture of black tea, milk, sugar and its taste is in a same way with milk tea.
Tibetan sweet tea is usually served with the Tibetan noodles and other snacks in sweet teahouses found in every where in here.
Traditional Cham Dance
The cham dance is a famous monastic dance performed in monasteries of Tibet.
Together with traditional musical instruments, the cham dancer wear a colorfuk masked and costume in order to show dance in Buddhist fesstivals.
There are several stages to a Cham performance and in its full form, it lasts for several days. Furthermore, it is quite a social gathering for the people who attend.
Tibetan birth ceremony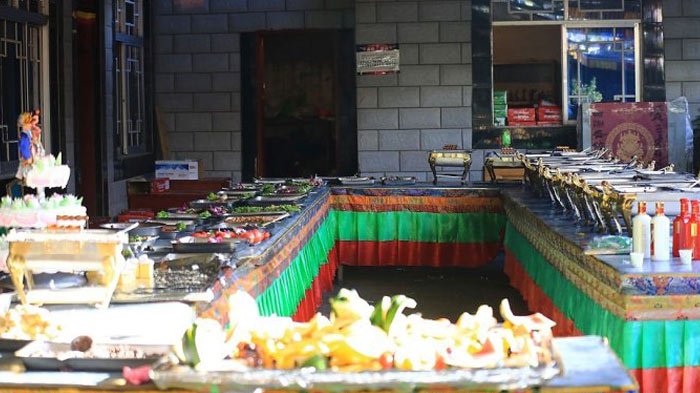 Tibetan birth ceremony (Pang-sai in Tibetan language) is a cleasing ritual with the aimed at cleasing the infant from the journey into their life. In Tibetan language, "pang" means folws and "sai" means cleaning away. Newborn babies are belived to come the world alongside fowls and need to be wiped them out in order to be able to grow healthily and their moms recover soon.
People coming from other places to join in the birth ceremony bring presents such as: food, clothing, flower,… with the aimed at wishing an abundant life.
Until the end of rituals, the baby is given a name after a Living Buddha or a prestigious senior villager or their parents.