Along with the application of technology in preventing Covid-19, Singapore is seriously applying other strict safety regulations to enter phase 3 of the reopening process.
TraceTogether, Singapore's Covid-19 infection tracking program, recently won the Government Innovation Award in the Asia-Pacific region in 2020, outperforming three other candidates from Taiwan and India in the Asia-Pacific finals. TraceTogether includes a mobile application and a wearable device (token). This wearable will help the elderly, children, and non-smartphone users effectively track the epidemic. Using the data collected via Bluetooth technology, both apps and wearables can identify people in close contact with Covid-19 patients.
Goals to enter the 3rd phase
The goal of TraceTogether's users to reach 70% of Singapore's population is one of three conditions required for the country to transition to the third phase of post-Covid-19 country opening. The remaining two conditions are compliance with Covid-19 prevention and eligibility for testing.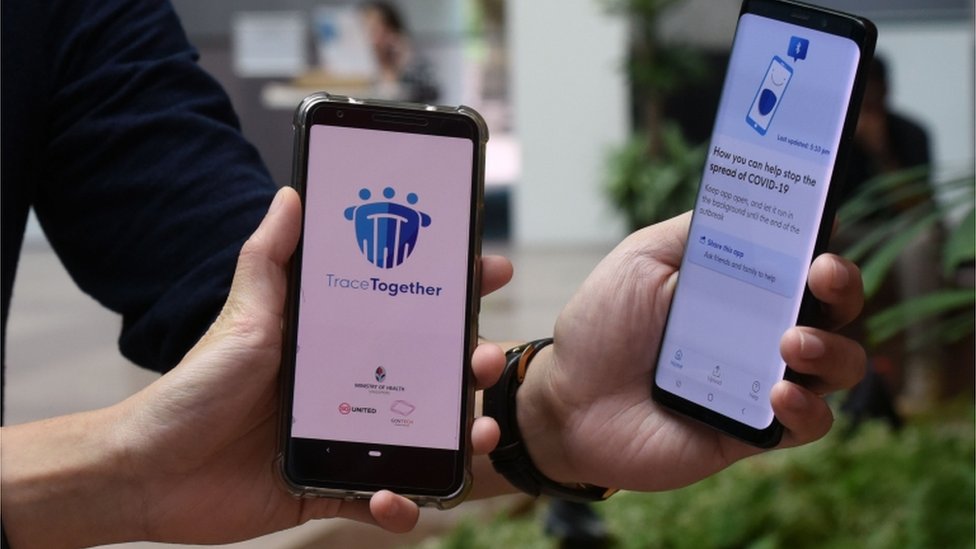 To achieve this goal, the Singaporean government is stepping up the offering of TraceTogether's tokens, while raising public awareness of the urgency of the program. In addition to running ads to encourage TraceTogether use, helper boots are also placed in shopping malls "across Singapore" to reach people in need, said an SNDGG spokesperson. Authorities also liaise with businesses to make TraceTogether use mandatory when welcoming customers.
Exercise caution when reopening
It has been more than five months since Singapore moved into the second phase of reopening. The number of Covid-19 infections in Singapore's community is at its lowest level since the beginning of the pandemic.
While TraceTogether has somewhat accelerated the traceability process and prevented the spread of Covid-19, the Singapore government is cautious before entering the third phase of the reopening process.
Professor Teo Yik Ying at the Saw Swee Hock School of Public Health, at the National University of Singapore, said that the government needs to ensure citizens strictly adhere to the Covid-19 prevention regulations before entering phase three.
Currently, Singaporeans are generally quite familiar with the regulations on wearing masks in public, social distance and not gathering in groups of more than 5 people.
Since the beginning of the pandemic, the testing protocol for suspected infected people has been used quite effectively. This helps to detect and promptly quarantine cases. Professor Dale Fisher, Senior Advisor of the Infectious Diseases division at National University Hospital, said Singapore's testing strategy was to prevent from many directions. This strategy includes testing people with symptoms of acute respiratory disease and people in close contact, and testing periodically for residents in high-risk dormitories and industrial zones. and frontline physicians.
In addition to preventing the spread in the community, Singapore also strengthens the prevention for imported diseases. Facing the situation that Hong Kong recorded a skyrocketing number of new Covid-19 cases since November 21, the Singaporean government announced the postponement of the agreement on the "Air travel bubble" for this Special Zone.