Sandworm is a small worm that is also known as soil dragon, living in brackish water, mostly seen in Tu Ky, Kinh Mon, Hai Duong. Only when you come to Hanoi in September or November according to lunar calendar, you can enjoy this specific dish, because it is sandworm season.
1. Sandworm pancake
First sandworms are rinsed in hot water to remove their tentacles, the worms are mixed with dill, pork, citrus peels, eggs and spices before being fried in an abundant pie.
Since this dish is only eaten in the fall, "cha ruoi" is a pleasure for most locals. It is also a dish that has commonly been labeled "disgusting,quot; or "unpleasant,quot; by foreigners who are not accustomed to the idea of ​​moving worms as their food.
2. Sandworm sauce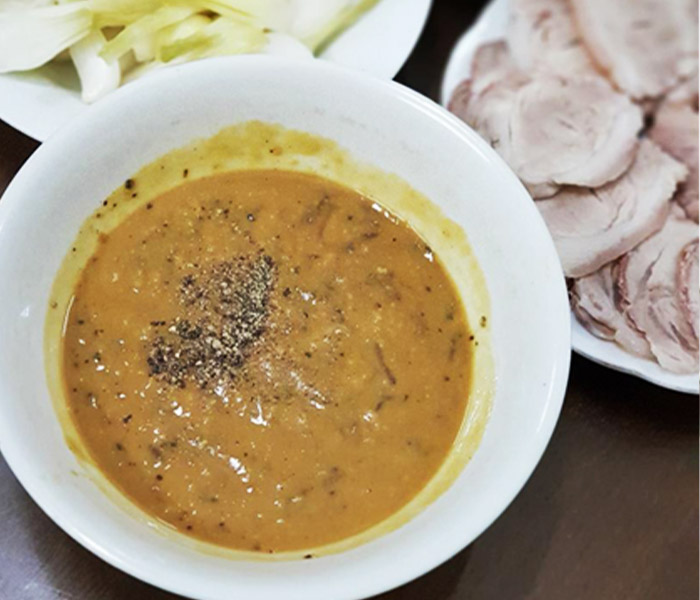 In Vietnam, the local can turn every seafood into sauce like fish sauce, shrimp paste… and there is no exception for sandworm too. There are 2 types of sandworm sauce in Central and North. While in central, the way of making sandworm sauce is quite simple with the ratio of 6 sandworm – 1 salt, the Northern sandworm sauce is quite sophisticated with many accompanying ingredients such as tangerine peel, rice powder, ginger powder, glutinous wine … To enjoy sandworm sauce, you only need to squeeze a little lemon juice, dipping with dishes such as boiled meat, shrimp or vegetables, eaten with rice are very delicious. For gourmets, they will elaborately prepare with dozens of different vegetables to be able to properly enjoy this fish sauce.
3. Sandworm hotpot
This kind of hotpot is different from other hot pot because it has its own unique aroma, especially tangerine peel is indispensable to create flavor for this dish. The dipping food is freshly served with pureed sandworm mixed with spices to form a thick mixture called "sandworm flour". Besides, sandworm hotpot is served with seafood, duck eggs or vegetables as optional. Hot pot must be eaten very hot for the best taste, you can feel the sweet and fatty taste of the hot pot, numb the tongue with spicy chili and the aroma of dill, tangerine peel.
4. Stewed sandworm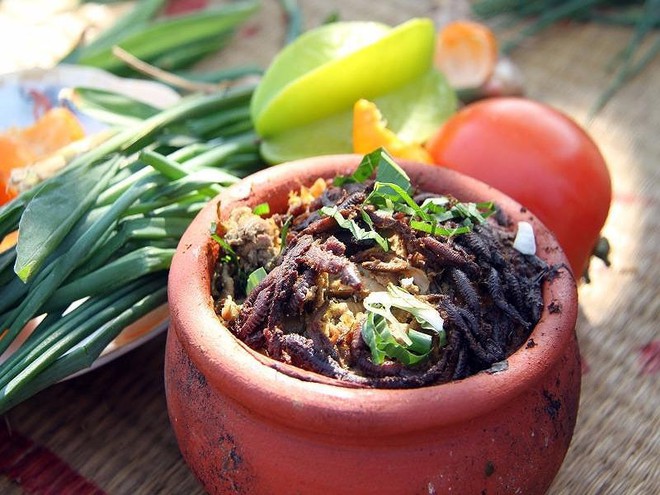 Unlike the usual stewed dishes, deliciously stewed sandworm is a combination of flavoring ingredients such as Gac leaves, lime leaves, ginger leaves, sour star fruit, cumin, tangerine peel, fresh chili … That's why the taste of this dish is outstanding, full of fragrant, mixed with the pungent taste of chili. When buying, you must pre-process, clean it and wash with hot water at 70 C degrees to remove fishy smell. In the pot, there is also a bit of soft and fatty meat that makes the dish extremely attractive. This stewed dish must be eaten with hot white rice.
5. Salt roasted sandworm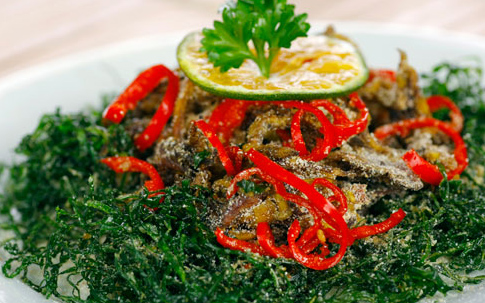 This dish must be prepared carefully, skillfully and leave the whole sandworm unbroken. Next is scooping up each spoon and pouring into a bowl of flour including flour and corn flour mixed in the ratio of 1: 3, covered with flour and then fried. Crispy fried sandworm with refined salt, add a little fried guise leaves has a salty, crunchy taste.