Sick of home cooking dishes, want to eat out but scared of Covid-19, don't worry, here a list of restaurant with unique social distancing concept that can make you feel more comfortable to enjoy your meal during this lockdown.
Fish Tales restaurant, Ocean City, Mary Land, USA
Ocean City's Fish Tales bar and grill announced it will be using bumper tables to keep people six feet apart. The tables, designed by Revolution Event Design and Production, are basically inner tubes on wheels with a customer in the middle. They guarantee you won't get within six feet of anyone.
A bunch of people antsy to get outside wearing giant inner tubes with alcohol flowing? What could go wrong?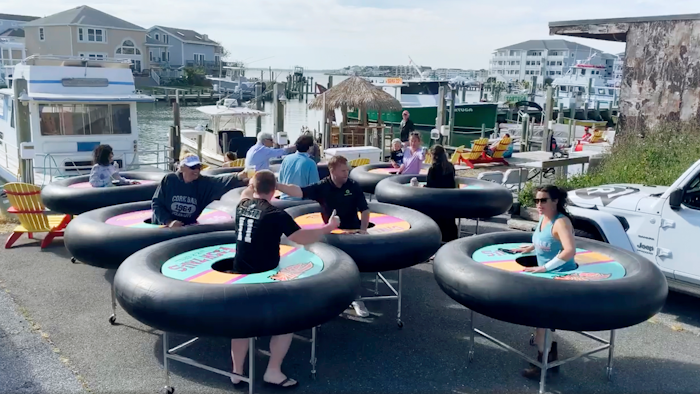 Perhaps Dr. Ian Malcolm said it best in Jurassic Park, "Your scientists were so preoccupied thinking about whether or not they could that they didn't stop to think if they should."
Either way, we're have to hand it to them for creativity.
What do you think of these bumper tables? Would you try them out?
The Inn at Little Washington, USA

The 3-star Michelin restaurant, which is already accustomed to crowds, will use a mannequin to fill empty seats when reopened with the number of allowed admissions forced to halve.

Chef Patrick O'Connell, the owner of the restaurant, happily thought up, but might also be a bit intimidating, to carry out his directive: fill the empty seats with a mannequin, alternating with the "bony" diners. meat".

Little Washington restaurant (USA) has combined with the same fashion unit to use mannequins to help diners less lonely. All mannequins will be dressed in stylish 40-50 styles and served with real life food.
Mediamatic Eten, Amsterdam
A plant-based restaurant in restaurant has made eating out during Covid into the next chilling experience.
Mediamatic Eten – a vegan restaurant located in the Mediamatic Biotoop arts center. This restaurant has built experimental glass houses with jellyfish for 2-3 people. These small greenhouses are intended to practice social distance and avoid contact between waiters and diners. This project is called "Serres Séparées" by Mediamatic Eten restaurant, which means "separate greenhouse" in French.
For the best protection, restaurant staff will wear a drop shield on their face, wear gloves and use a long wooden board to be able to serve diners inside the greenhouse.
When coming to this restaurant, you can slowly enjoy your delicious veggies, chill by the river side without worrying about the covid infection.
However, the project is still asking for permission from the local authorities and waiting for a decision to officially welcome more guests.
Bord för En (Table for one), Värmland, Sweden
Still scared of Covid infection, try out this last resort!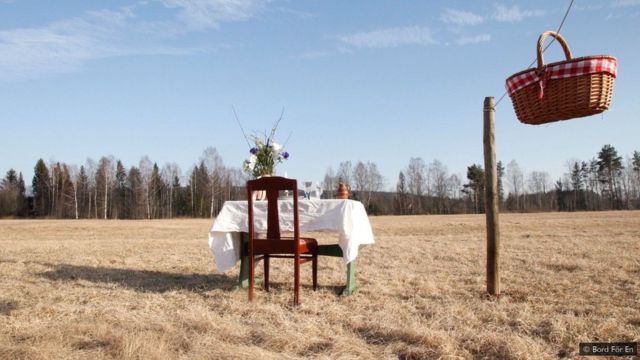 This special restaurant is called Bord för En – also known as "Table For One", located in Värmland, about 350km from Stockholm. It serves only 1 guest per day, who will be seated on a set of tables and chairs completely isolated in the middle of the field and receive food through a picnic basket hanging on a long rope connected from the window kitchen.
This restaurant does not put profit on top priority, instead customers will leave the amount of money depending on their hearts.
According to Karlsson – the owner of this unique restaurant, each meal will include three dishes made by chef Persson and her boyfriend. In addition, the drinks will be prepared by Joel Söderbäck himself – the owner of countless famous bars throughout Sweden.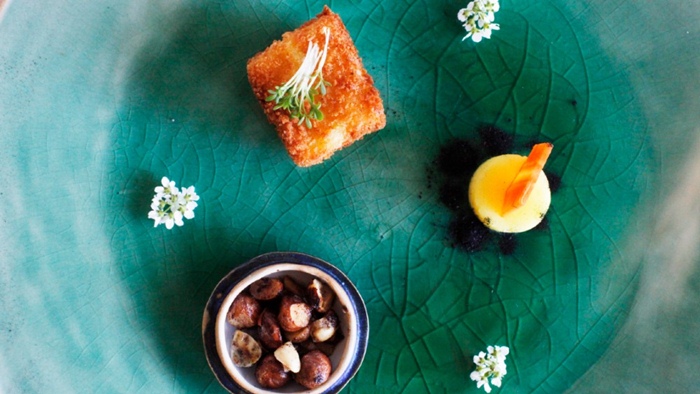 The menu also varies depending on the local situation, as our couple mainly uses the main products from home to prepare the dishes.