Nasir al Mulk Mosque is one of the few mosque constructions that use stained-glass windows. This mosque took 12 years to be built completely.
Nasir al Mulk Mosque is located in the city of Shiraz (Iran) and is considered one of the most dazzling mosques in the world. In addition to its official name, locals call this building the Pink Mosque, the Colorful Mosque, the Rainbow Mosque and the Kaleidoscope Mosque.
According to the BBC News, ruler Mirza Hasan Ali of the Qajar dynasty ordered the construction of this mosque in 1976 and it took 12 years to complete the whole mosque.
At first glance, the cathedral has many similarities with other traditional Islamic architecture due to the fact that it has a high dome, closed ancient stone walls, a fountain in the center, where the suspect takes place cleansing ceremony of Islam. However, the difference is in the inside.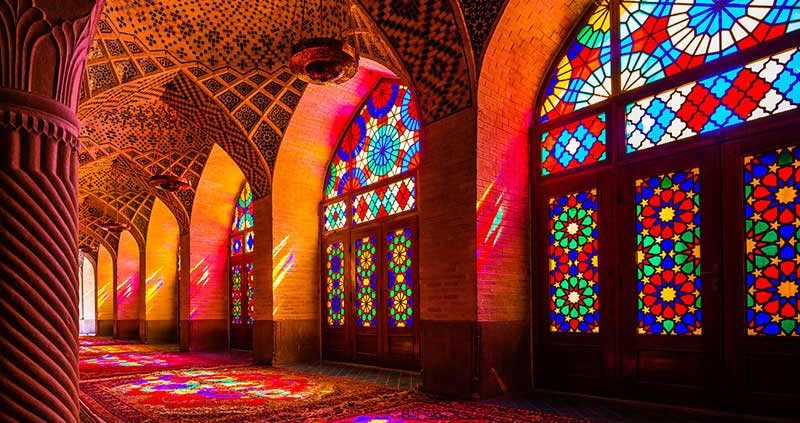 Every morning, when sunlight penetrates through the doorway and shines down the corridor, the whole room is like a giant kaleidoscope, shimmering with color. Nasir al Mulk is an exception to those who prejudice often monotonous historical structures.
"Even if you are an ordinary person and a non-believer, you still want to put your hands together in prayer at the sight of that dazzling sight. Perhaps, the builders wanted to convey the message of faith," Koach Japanese photographer said.
Stained-glass windows are relatively rare in Islamic structures.
Not only possessing colorful doors, Nasir al Mulk also owns walls that are decorated and meticulously designed. Millions of colored bricks are made into brilliant patterns on the dome and wall niches.
The main color in Nasir al Mulk is pink.
At present, the mosque serves not only the religious needs of local people but also the local tourism industry.