With temperatures ranging from 37 to 62 degrees Celsius all year round, the Danakil Desert is considered a "gateway to hell on earth", where the death never sleeps.
Danakil is a lowland located in the Danakil Desert in the Afar Triangle, including northeastern Ethiopia, southern Eritrea, Djibouti and northwestern Somalia. It is dubbed as the hottest place on earth, so is also known as the "basin" Danakil.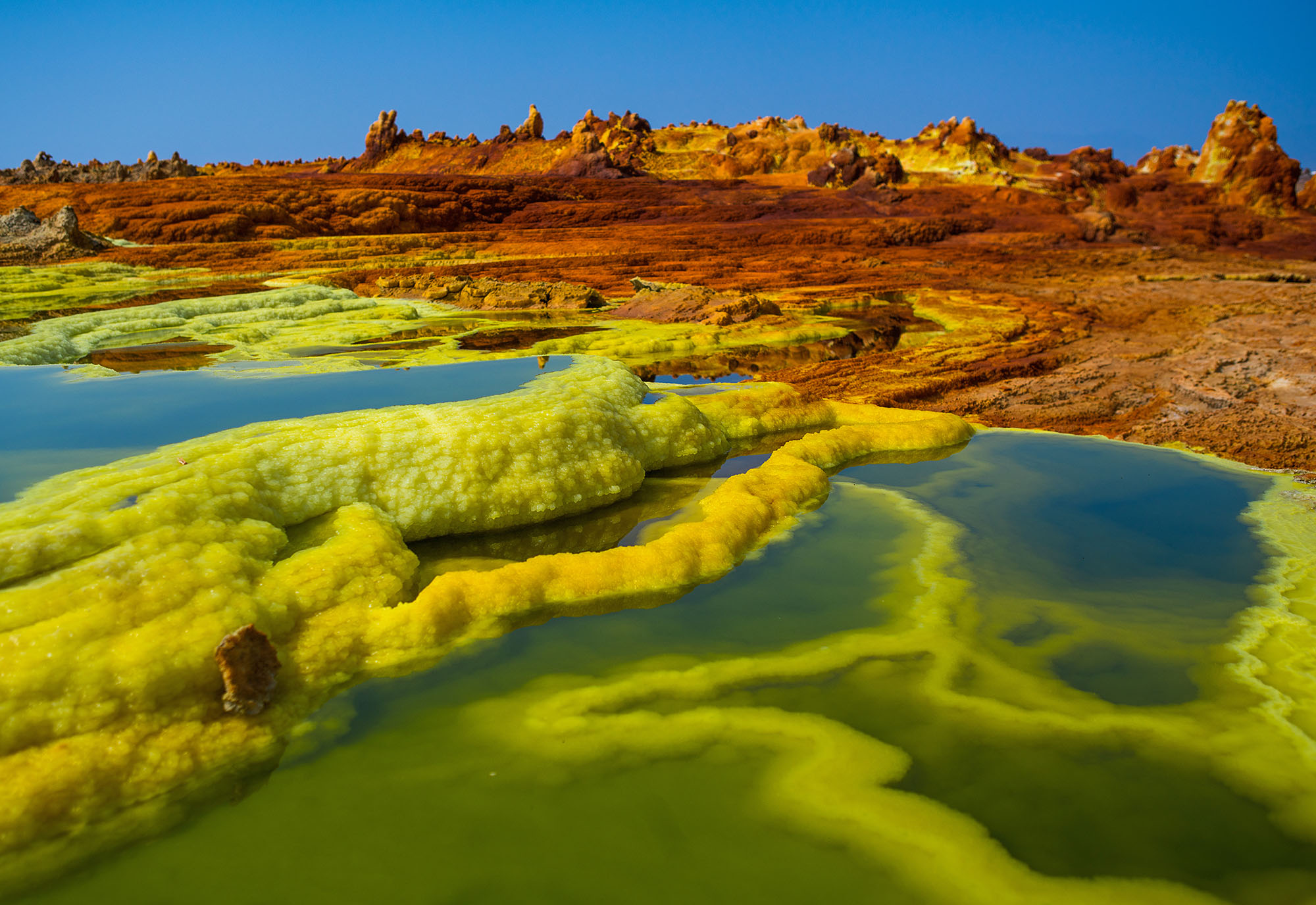 The Danakil Basin is about 100m below sea level. Red rock formations, sulfur hot springs, death fissures, acid pools and endless salt mines make Danakil looks like a scene from science fiction movies. But this area is real and it is one of the most incredible natural wonders in the world.
Although Danakil land has harsh conditions, it has a strange beauty that you can't find in anywhere else on earth. In recent years, this hot basin has attracted many adventurous tourists to explore.
This low-lying land is inhabited by the Afar people. To adapt with the weather, local residents in this land have to use less water and food compared to residents of other lands.
In Danakil, salt is money because the entire economy here depends on the mining and trading of mineral salts. Salt miners use rudimentary traditional methods and tools to extract salt such as hoes and ropes. They mine, pack and transport salt out of the desert by camels.
Danakil is one of the top tourist attractions of Ethiopia. Tourists are "lured" to Danakil because of the beautiful beauty of this land of death. Dubbed the hottest and harshest place on the planet, the Danakil Basin brings a strange beauty that no other place has. Volcanoes, lava lakes and hot springs are always evaporated, making you feel like you are on another planet, but in fact it is completely real.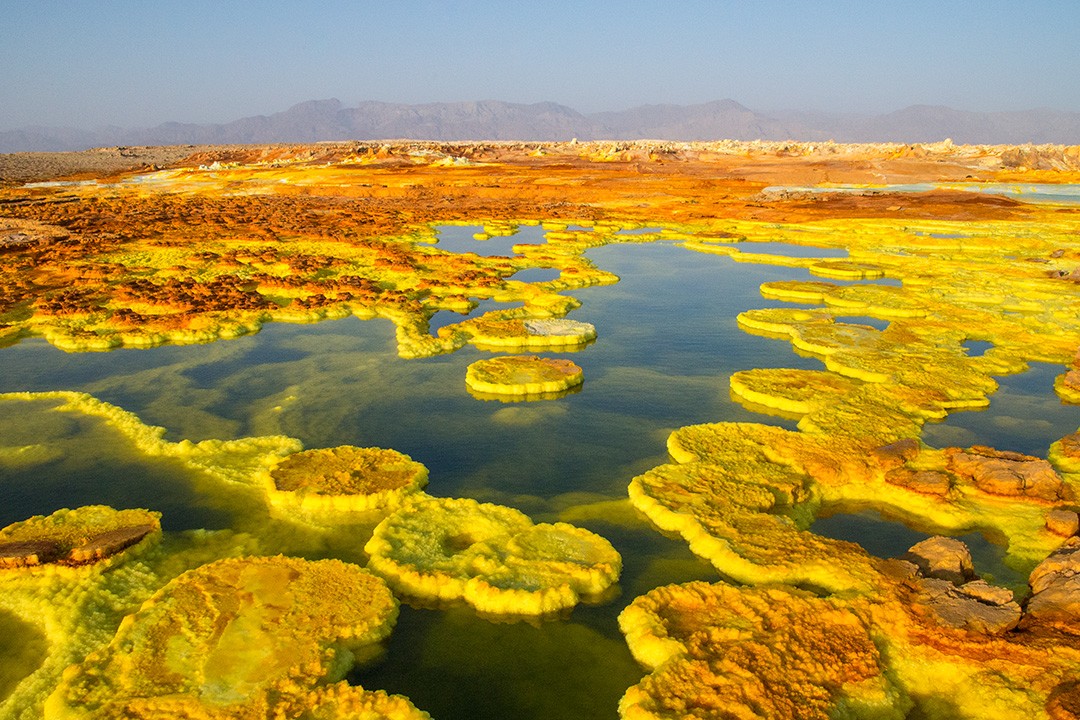 The Danakil Desert is vibrant in a variety of colors yellow, orange, red, blue and green because of the combination of mud, iron, halophile algae and most importantly, salt. The sulfur hot springs in Danakil have a special appeal, with astonishing shades of turquoise water, neon blue, and gold emanating from a unique rocky terrain.
The most active volcano in Ethiopia is Erta Ale, one of the only 8 lava lakes in the world. Erta Ale volcanic activities and lava eruptions have produced geysers that precipitate white and gray, turning yellow, green and orange after undergoing oxidation.
You can take a day trip to discover this place. Day trips departing from Wikro town usually start around 4am. From there, a convoy of 4-wheelers embarks on a 3-hour journey to a windy mountain road through the Ethiopia region of the Great Rift Valley.
Visitors can also choose a helicopter for a faster journey. From above, you can sweep the view down to the scene below.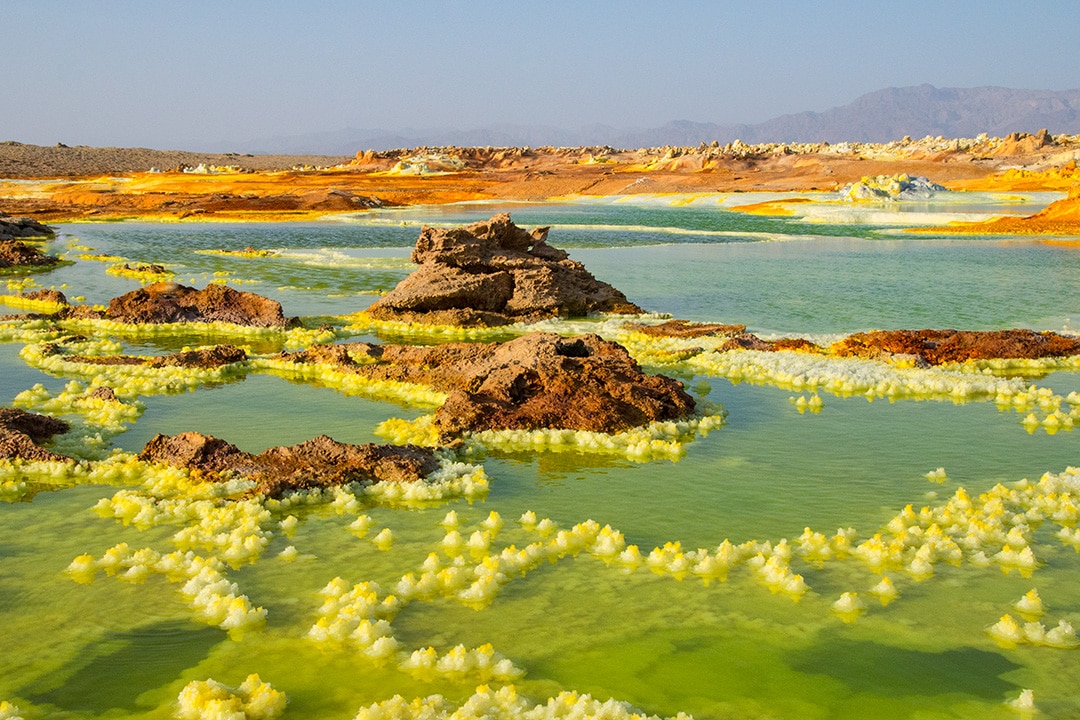 Compared to hydrothermal areas in Yellowstone National Park, USA, Danakil is hotter and more acidic. When walking over geothermal areas, you must be careful. Salt crusts are unstable, fragile and fragile. You need to determine exactly where you can walk. So find a reputable tour operator who can ensure you about your safety.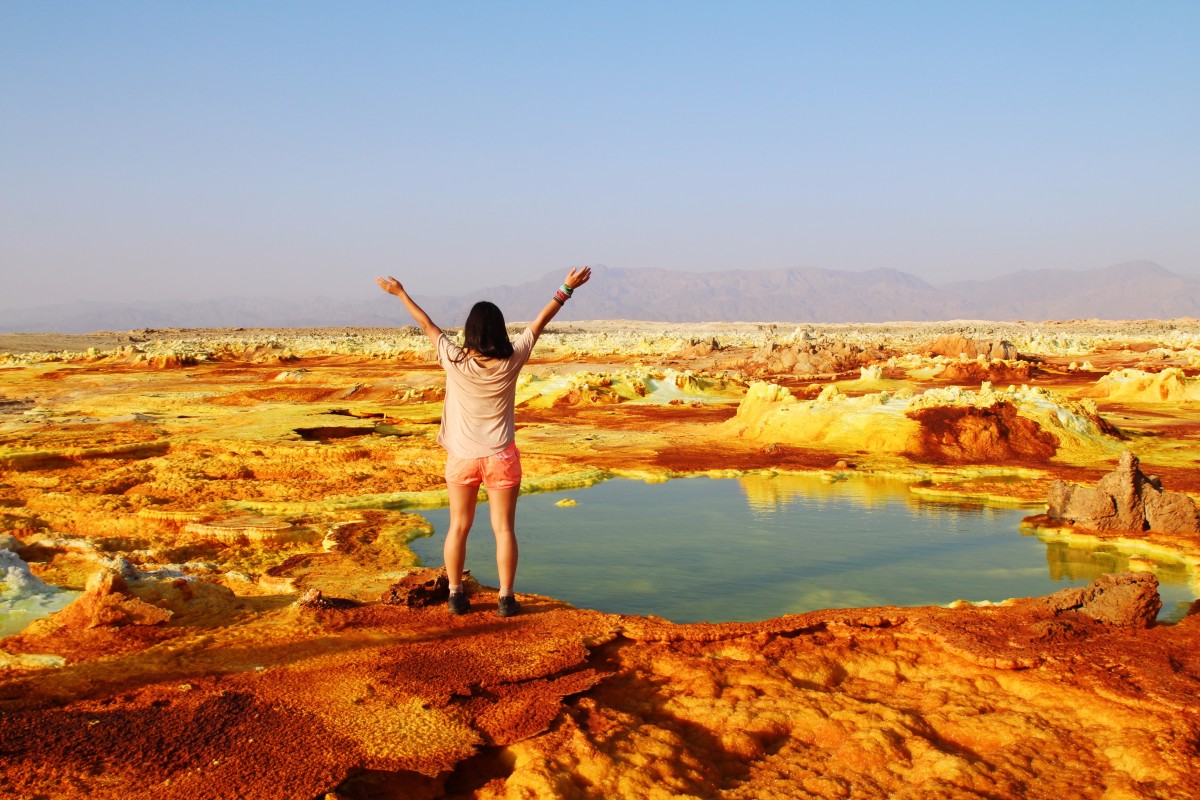 The best months for you to travel to this unique place is from November to March, in that time, the temperatures will be a little more tolerable.