Sick of going to normal restaurant to having meals, let's try out this special way to enjoy your food!
Dinner in the Sky is becoming a popular service for the rich in the world. This service not only brings strong and strange feelings, but also attractive dishes served at dizzying heights – 45m.
According to the Wall Street Journal, the service "dinner in the sky" began in 2007, was initiated by two Belgian businessmen. Initially, this type of dinner was only intended to get the public's attention, but later Dinner in the Sky has grown into a global franchise with franchises in dozens of different countries.
Nowadays, you can find these kind of restaurant in (Kuala Lumpur) Malaysia, (Paris) French, Morocco, Turkey, (Brussels)Belgium, (Jaffa) Israel, (London) England and many other countries.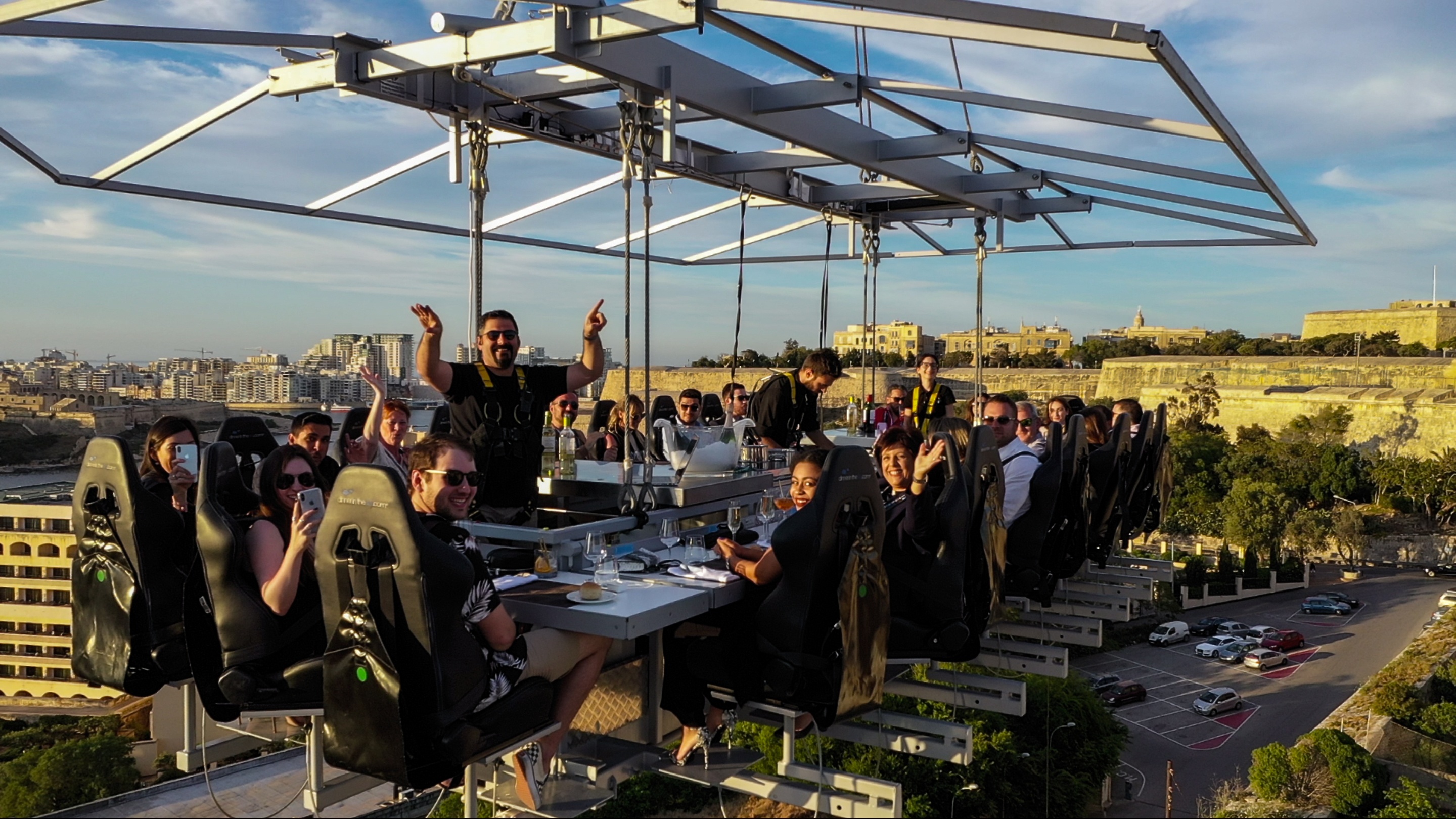 Diners will need to take part in the mid-air dinner are secured in seats similar to those of a racing car, with very tight seat belts. The company offers the service to use every place possible for advertising, including on seat belts tied to customers' shoulders. If you scared of falling down then don't worry, this experience is totally safe!
After completing the procedures, the dining table will slowly be brought up to a height of 45 meters from the ground. Dinner In The Sky's standard dinner table has a maximum of 22 guests, arranged around the oval table and the chef standing in the middle will directly prepare the dinner in front of the guests.
Most of the preparation of the food was done on the ground, but the final cooking was done in front of the guests to make sure for the freshest taste of the dishes.
Diners who have had dinner in the mid-air of Dinner in the Sky said that this service is best when taking place in places with beautiful scenery. It can be a view from the top of a famous church, it can be a floating view overlooking the Eiffel Tower in France or the twin towers in Malaysia. That's why this kind of dinner is considered as a high-end experience, besides its price.
The price of each ticket class will correspond to the additional services, as follows:
Economy Class: 90 $ (including 3-course dinner: appetizer, main course and dessert, free water and juice).
Business Class: 140 $ (including 4-course dinner: appetizer, soup, main course and dessert, pre-boarding priority and additional finger food, cocktail).
First Class: 235 $ (including the above services and get free cocktail / mocktail, accompanied by a 6-pack macaron).
One thing to note when dining at Dinner In The Sky is not to look down because you will feel dizzy when you realize you are hovering at a height of 45m.