Thailand tourism always attracts tourists with unique cultural features, including the Karen tribe with the custom of creating unique long necks that you must see once.
Coming to Thailand, you will find huge Buddhist temples, crowded night markets and even sparkling cities with bright lights. But there is a sure image that you have never seen is that the Karen tribe woman with a long neck full of yellow metal rings, this is a unique and strange culture of them.
They live in a village – also known as long neck village, and here women have long necks and rings that are stacked together creating an impressive image.
Where does long neck village locate? How can you get there?
Long neck village is located at 17/1 Kotchasarn Rd, Chang Wat Chiang Mai – Thailand. This village is about 180 km from Chiang Mai city, about 30 km from Chiang Rai city. You will have two ways to go to this special village:
Option 1: The first way you can travel by bus: You need to take R3 Smart Bus (Red or Yellow route) to Tha Pae Gate, then walk to the long neck village. Buses run every 20 minutes from 8:00 am to 8:00 pm.
Option 2: You can take Song Taew car (taxi truck) or private taxi to the long neck village, the time will be shorter than taking a bus, of course, the cost will be higher.
Explore the unique culture of the Karen tribe in the long neck village
Karen village is located in a valley in Chiang Mai, adjacent to the border of Thailand and Myanmar. There are ethnic minorities living here long ago has attracted visitors to visit and admire the unique cultural features.
Story about the long necks
The village has a long neck name because it is home to the Karen ethnic women who have long neck, they carry metal bracelets around their necks, arms, knees and legs.
This custom of wearing necklaces has originated from ancient times, according to the belief of the Karen, the neck area under the copper bracelets is a "forbidden area" on the woman's body, so they must wear the braces to shield this part well. No one will see this part, especially their husband because it is considered a discreet part. On the other hand, the Karen tribe believes that a woman must have a long neck with shiny metal braces to be beautiful and aesthetically pleasing.
In this village, the 5 years old young girls have already wore bracelets in their neck to form long necks. The number of necklace will be increase among the time due to 4 years and these girls have to wear these bracelets for the rest of their life. The bracelets are stacked and gradually lengthen a woman's neck. Some women of the Karen tribe have necks up to 25cm high. On average, each woman in the village wears a necklace with a weight of 10-12 kg or more.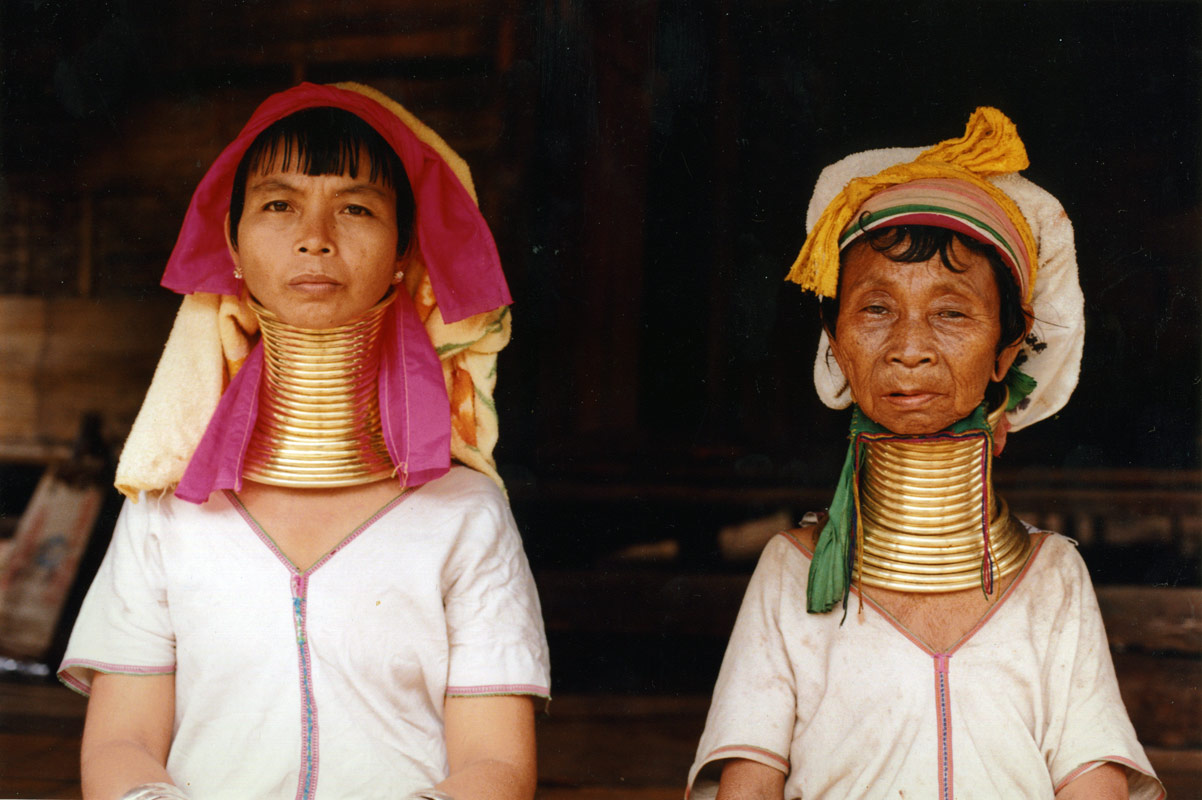 The Karen tribe thinks that a beautiful, attractive woman is a woman that her neck wears a lot of necklaces and has a long neck. The more bracelets she wear on her neck, the weathier her family is. Women in this village are only permitted to take off these necklaces three times during their life, once in the day they was born, second time in her marriage day and the last time in her funeral.
What can you experience in this village?
The most interesting experience when you come to the village of long neck is that you are allowed to count the number of rings on a woman's neck to capture her age. Villagers live mainly on tourist services so they are very friendly.
Crafting handicrafts and buying lovely souvenirs are the main activities to serve tourists of the Karen tribe. People here also trade in handicrafts, especially self-woven fabrics. Here, you not only learn about the typical customs in everyday life of Karen people. Unique handmade products are also popularly sold.
You can buy for yourself beautiful and lovely gifts made from the skillful hands of Karen villagers such as: brocade fabric, meticulously woven handbags, embroidery pictures, wooden statues… to bring as gifts during your trip to Thailand.