Are you a fan of dishes made from seafood? Has it been so long since you enjoyed the fresh seafood dishes? Do not hesitate any longer and carry your suitcases to Japan to enjoy the freshest dishes in this island nation.
Japan is one of the leading countries in Asia in terms of annual visitors. It is such a tourist attraction because Japan is not only beautiful scenery but also because of a very rich and diverse culinary culture. Surrounded by oceans on all four sides, Japan is famous for its year-round fresh seafood that you can easily find anywhere in the country, but the most famous are still Hokkaido and Kanazawa.
1. Hokkaido
If you visit Hokkaido, Japan you have to try the fresh seafood here. Most visitors to Hokkaido said that they have not eaten such fatty and juicy salmon anywhere like this. In addition, salmon, caviar and succulent sea urchins really impress diners with their freshness and attractive flavor.
Hokkaido seafood is so delicious thanks to the plankton-rich Oyashio River that flows through the Pacific Ocean, where shrimp and fish are rich in nutrients. The low temperature of the water helps to nourish marine life by building up muscle tissue and helping to add layers of fat. Sea urchin, crab, salmon roe, scallop, tuna … almost all the attractive seafood products are available in Hokkaido. But if you know the timing of the seasons for the different types of fish, you will have a chance to enjoy the best seafood dishes. For example, the best spring ebi botan shrimp; squid and sea urchin should be enjoyed in the summer; salmon and tuna have to eat when fall next.
If you want to try a variety of Hokkaido seafood at the same time, eat a serving of fresh Kaisen-don, consisting of a bowl of rice with a few varieties of sashimi and soy sauce. Depending on the region, there are many different types of kaisen-don. For example, Bukkake Asaichi-shokudo Hakodate in the Hakodate morning market serves a local favorite called daimyomori with a dozen types of seafood in one dish, including sea urchins, salmon roe, crabs, shrimp, scallops and more. You can also take a stroll through the bustling Hakodate market – an ideal way to experience Japan's morning culture.
2. Kanazawa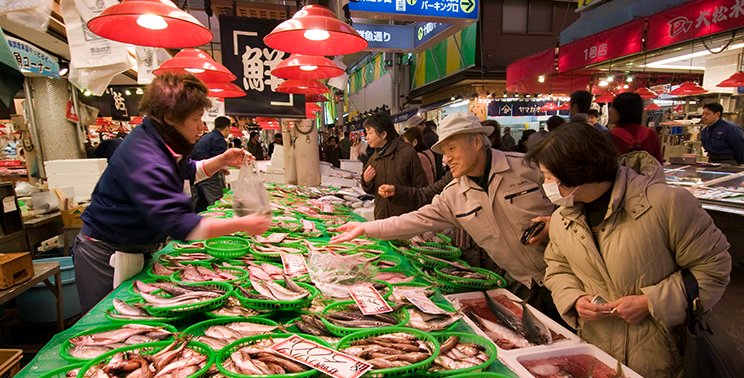 Kanazawa is one of the most beautiful cities in Japan, known for its traditional arts and crafts. There is a lot to see and experience in Kanazawa. However, you should not forget to enjoy the seafood here. Kanazawa is famous for Kaitenzushi restaurant, Kaisen-don specializes in high quality sushi.

Here are the dishes you cannot miss when coming to Kanazawa:
*Conveyor-belt Sushi
Kanazawa is rich in seafood, as well as many types of sushi, so you can eat lots of luxuriously delicious conveyor-belt sushi for a reasonable price. Kanazawa sushi often includes black-throat seaperch (のどぐろ/Nodoguro) and Gasu ebi (ガスエビ – shrimp). Black-throat seaperch is known as the king of whitefish, the fish is very delicious, and is full of healthy fat and is one of the best examples of sushi, it is commonly eaten raw but is good when roasted with a bit of salt. Gasu ebi is Hokuriku's special product, the shell is brown, and it has a sweet flavor and very popular as sashimi.
*Oden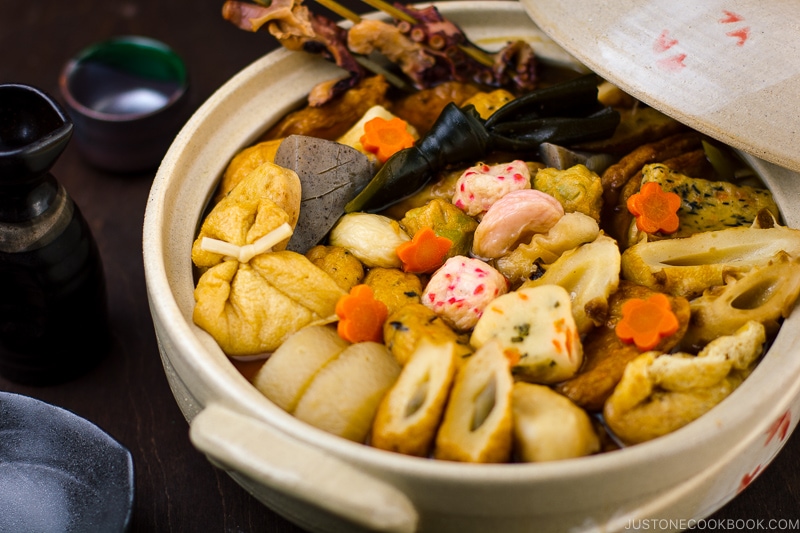 Kanazawa's oden is sold all year round and uses several ingredients unique to Kanazawa, such as kurumabu (車麩), akamaki (赤巻き), and sazae (サザエ – horned sea snail).
The classic items of Kanazawa Oden are crab noodles and Sazae. Crab noodles are made from Kobako crab. Crab shells, crab miso, and crab meat are placed in the crab shell, and the crab shells are dipped in the soup.
*Kabura-zushi
Usually sushi means rice with the sashimi on top, but this Kabura-zushi is a completely different type of sushi. It consists of exceptionally delicious seafood such as the freshest meat, crab eggs or sea shrimp served with a special sauce. Kabura-zushi is a New Year's dish and is a perfect treat to enjoy with sake.
*Snow Crab, Kobako Crab in Kanazawa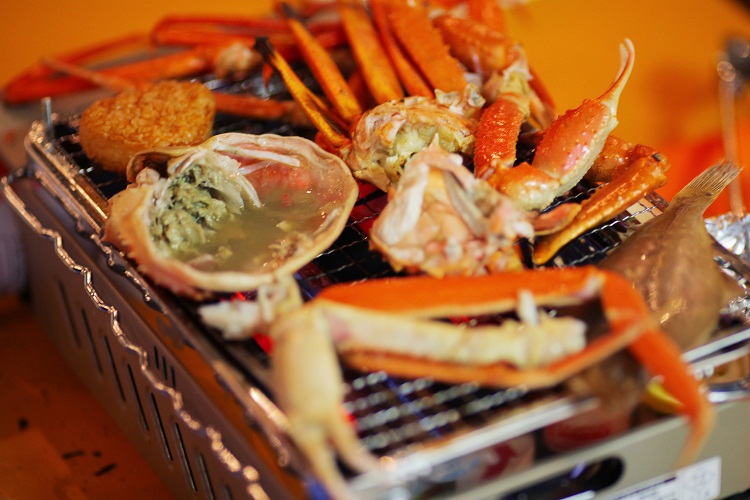 The Japanese often like to enjoy crab in winter. Especially at ryokans, a Japanese-style motel, they offer snow crab as a special main dish. You can enjoy the grilled, steamed, and even crab sashimi there and you will be satisfied.