Covão dos Conchos is an artificial sinkhole built by Portuguese engineers in 1955. It is located in Lagoa Serra da Estrela Lake of Serra da Estrela mountain, the highest mountain range in Portugal.
Famous for a 3-minute long video
From above, the Covão dos Conchos dam looks like a mysterious portal leading through another world. However, the only thing is that it is not an artifact of nature, but a wonder of modern technology. Thanks to two people named Daniel Alvez and Hélder Tavares, in 2016, the world knew this mysterious artificial funnel existed.
Daniel Alvez and Hélder Tavares are the ones who love to play drones. In early 2016, while flying a drone in Mount Serra da Estrela, they accidentally shot a mysterious lake in the mountain. The oddity was that in the middle of this lake, there was a circular structure with rim liked the mouth of the funnel. Water flowed into it from the lake and miraculously disappeared.
Although only 3 minutes long, as soon as it was posted on social networks, the recording of Daniel Alvez and Hélder Tavares attracted millions of views. People began to be curious about the strange funnel, which looks like a hell gate in this deserted, empty mountain.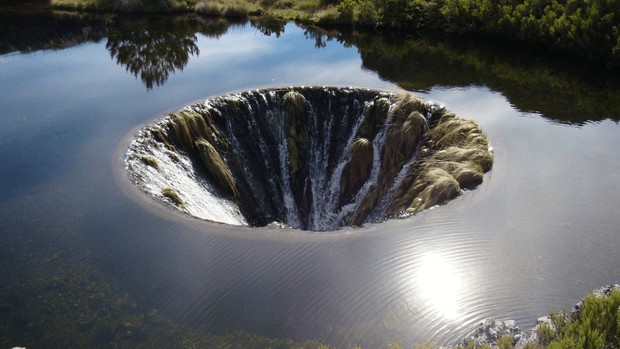 A unique groundwater conduction work
In Portugal, Serra da Estrela is considered the highest mountain range, but even its highest peak only reaches 1993m only. If compared to the peaks of 7000-8000m in the world, it really does not stand out.
In 1955, during the construction of a hydroelectric dam in the Serra da Estrela mountains, Portuguese engineers realized they needed to make full use of the water of Lagoa Serra da Estrela for the Lagoa Comprida dam.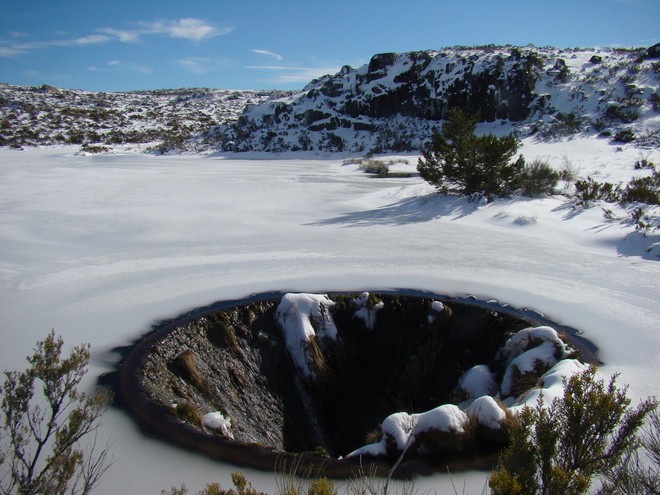 While Lagoa Serra da Estrela Lake is only a small lake, the Lagoa Comprida Dam is famous for being great. It is also the most important reservoir for storage of the Portuguese continent.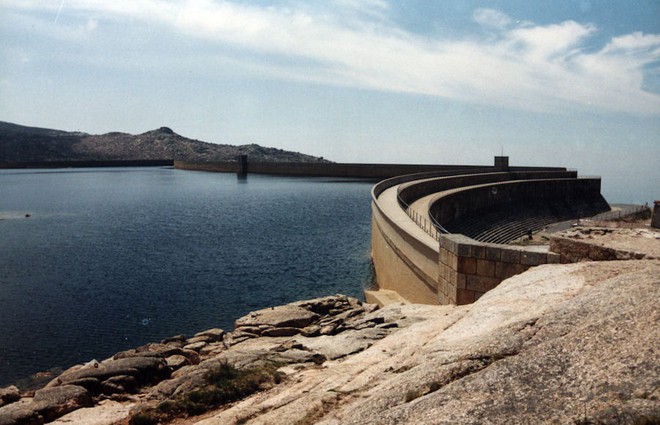 Since 1912, the Portuguese began to turn natural lake Lagoa Comprida into a dam. After 2 years, a 6m high barrier was formed. They continued to build, by 1934 it reached 15m, and by 1965 it reached 28m.
Once completed, this dam is up to 1200 meters long, holding about 12 million cubic meters of water. And part of that enormous capacity comes from the Laca Serra da Estrela.
The interesting thing is that instead of setting up a water pipeline from Laca Serra da Estrela to Lagoa Comprida, the Portuguese engineers completely chiseled a tunnel through the mountain to connect the two lakes.
An artificial sink, but with a mysterious and enchanting look
To be precise, Covão dos Conchos is just a sinkhole built of concrete and granite to carry water from Lake Laca Serra da Estrela to the Lagoa Comprida dam. Only in Laca Serra da Estrela, lying in the lonely mountains, the cement funnel that should have been nothing new suddenly became mysterious.
Over time, the grass seeds stuck on the mouth of the funnel covered with moss due to humidity also germinated, stabbed the roots, and clung to not let go. Over time, it caused the gray-sunken hole to turn green.
Thanks to that green moss and grass, Covão dos Conchos increasingly lost its artificial appearance, completely immersed in the wildness of Serra da Estrela.
When winter comes and the water surface of Lake Laca Serra da Estrela freezes, this sinking hole that looks like a gate of hell adds to its mystique. Both the falling waterfall and the persistent vegetation on the funnel wall were also frozen. They create a mesmerizing still picture.
Also since being filmed from a video on social networks, Covão dos Conchos is quite popular. Although it takes 2 hours of walking, crossing the 10km long trail, many people still like to come here to admire. Some even brave enough to swim close to the crater to look down.

The good news here is that even though you have to actually go hiking, but since this highest mountain is only a little higher than the plateau, it's pretty easy to travel. You just need to prepare a good pair of shoes, some favorite snacks to help relieve your mouth and a little water.