Located in the middle of the Atlantic, Madeira is more than 400 km north of Canary island and 563 km from Morocco. Visitors can come here by plane. In addition, the archipelago has two other islands: Porto Santo and Desertas. Madeira is home to some of the most beautiful beaches, sunshine and culture in Europe.
However, in a challenging year after the Covid-19 pandemic, many tourists were unable to experience and enjoy all that the islands offer. With this in mind, the Madeira Promotion Agency kicked off a special campaign called: Madeira – It's time for a different Christmas.
The island boasts Christmas lights, year-end festivals, fireworks and food, and unique things that are unique to the island. Although the situation is very unusual due to a pandemic, you can still visit Madeira and make the most of this time of year, in a safe and hygienic environment. There's also promise of good weather and activities that will will see you exchange the open fire for the sea and nature for a vacation that will create memories unlike anywhere else.
Famous tourist activities in this island:
Madeira has many natural advantages such as swimming pool on lava rocks, beautiful cliffs facing the sea with majestic scenery.
Swimming in the natural lava lakes in Madeira is an unforgettable experience.
Not only swimming pools, Madeira also attracts visitors with beaches, including Calheta. The neighboring island – Porto Santo is also home to the most famous beaches in the world. The sea water is clear and always warm, very convenient for swimming and relaxation. The average temperature in Madeira ranges from 16 degrees (winter) to 22 degrees (summer). In other words, the weather on the island is always in the state of a cool spring day.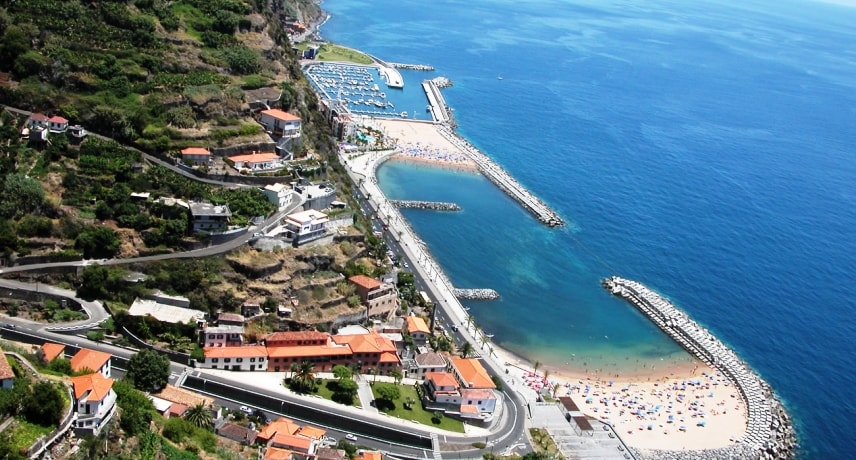 Thanks to its advantages at sea, water sports, including windsurfing, are extremely popular here. You can also easily rent a paraglider and explore the island from the air.
Madeira has a system of irrigation canals that cross the island to transport water, creating paths called "levadas" (in Portuguese). These paths also form walking trails around the island, sometimes taking visitors through waterfalls.
Madeira's largest city – Funchal seen from the coastline. It also owns many old churches and colorful markets. Indigenous people as well as visitors have many choices for the freshest food here.
It is also the site of the world's largest fireworks display on the New Year and recognized by Guinness.