Dubai is a country in the United Arab Emirates. In the past, Dubai was very poor, but today, this place has become the richest city in the world and is a favorite tourist destination for many people. According to the Dubai travel experience of those who have been here, Burj Khalifa Building, Palm Islands, Dubai Miracle Garden, … are some typical places you should not miss when you're in Dubai.
Dubai is divided into several zones: Bur Dubai, Deira, Karama, Jumeirah, Satwa … in which Deira is the financial center, concentrating banks, big corporate headquarters. Burj Dubai, Karama is a wholesale district, concentrating on traditional markets. Satwa next to Jumeirah is the middle-class area, in which Jumeirah is the area near the coast.
Dubai is sometimes referred to as the "City of Gold" because of its staggering development from a sleeping Gulf port to world-famous business crossroads in space. of a generation. Its nickname is literally meant for precious metals traders. The city is building itself as a center of gold trade, between sources in Africa and consumers in the developing economies of China and India.
The perfect time to visit Dubai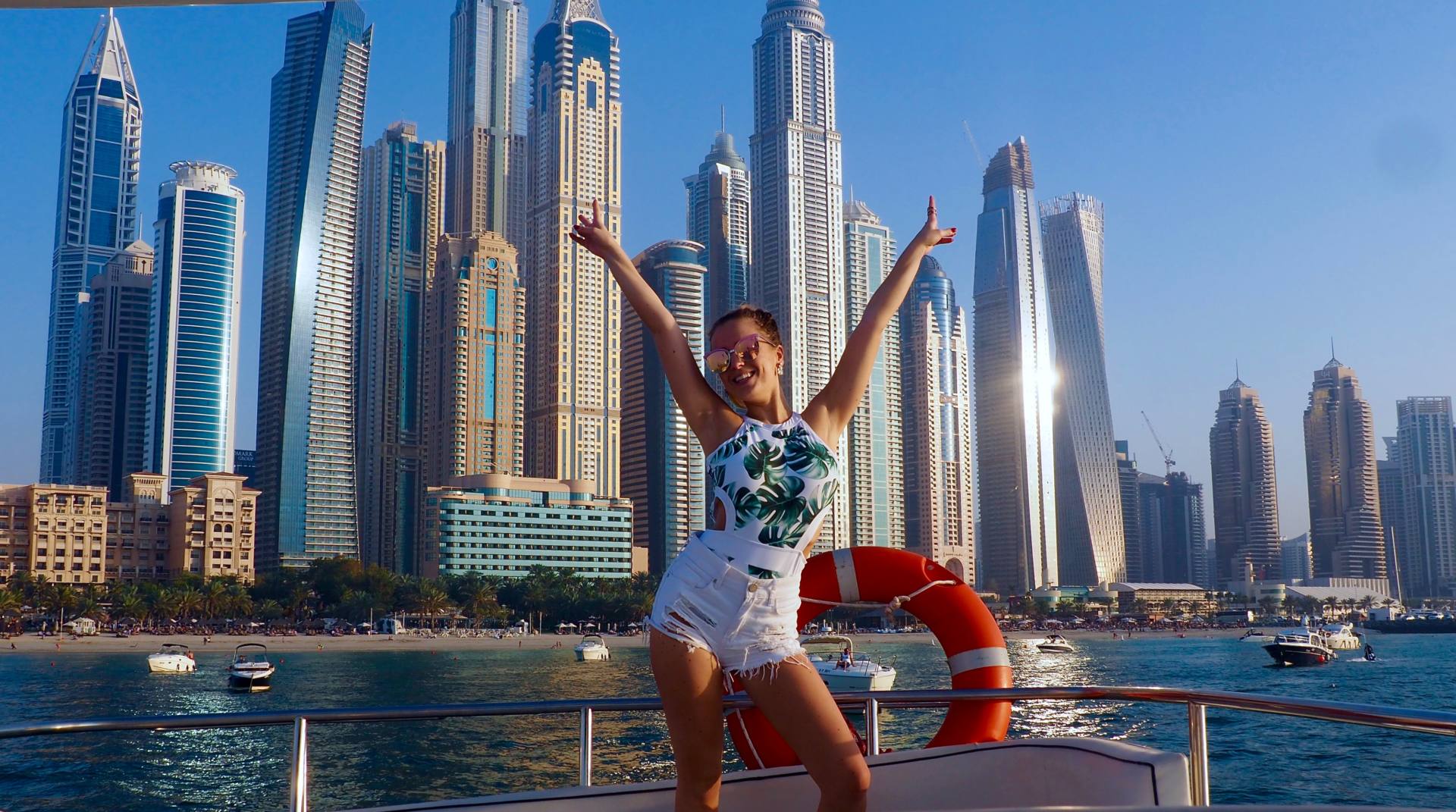 The temperature in Dubai is usually quite high, during the day it fluctuates at 40 degrees Celsius from May to October, the temperature is relatively high and hot. So if you intend to travel to Dubai, you should go in the period from November to April, because this is a relatively cool time, pleasant weather suitable for sightseeing as well as shopping, go. If you are interested in shopping, you should go around December, at this time there are huge discounts for Dubai Sale Festival, maybe up to 70%.
Transportation in Dubai
The public transport system in Dubai is rated as the best in the Middle East, so when traveling in Dubai, tourists should choose public transport to visit and travel.
– Bus: This is the most commonly used public transport in Dubai, there are many routes to famous tourist destinations in the city, convenient for sightseeing and traveling.
– Subway: The subway system here is very developed, connecting many cities and attractions in the area.
– Car rental: This vehicle will make you more active in traveling, and more convenient. However if you need to have an international driver's license and know the routes and lanes here so you won't get in trouble.
– Taxi: There are many taxi services here, depending on your route that the price of the car will be high or low. Please ask carefully before using this kind of vehicle.
Famous landmarks in Dubai
Burj Khalifa Building
Buri Khalifa – this name has became extremely famous after dethroning the "tallest building in the world" of Taiwan's Taipei 101 building – pride and symbol of Dubai.
With a height of more than 800m with 163 floors and 304 hotels, 904 apartments are considered the most massive and tallest architectural block in the world. You will have to stand very far or very high to be able to take a panoramic picture of this building. Here you will be able to enjoy the most luxurious and comfortable furniture in the world right in the building and enjoy the wonderful, lavish meals like a king.
The best time to visit Burj Khalifa is to watch the sunset fall, or at night when the whole city sparkles under the shimmering, magical lights.
Dubai Museum
Not as splendid as Burj Khalifa, not as large as Adventure Park, Wild Wadi … but the Dubai museum contains many values ​​of history, culture, the birth of the emirates…
This will be a great tourist destination if you are passionate about ancient history, culture … visitors will be able to visit the exhibits, archaeological artifacts showing Arab culture … to help you understand. more about Dubai's lifestyle and development in history.
Palm Islands
This is a man-made island with the shape of the largest palm tree in the world, not only known to be an architectural masterpiece of the people of Dubai but also the 8th wonder of the world. This is one of the places not to be missed when traveling in Dubai.
Here, there are many activities such as entertainment, shopping, luxury dining or gathering the most modern hotels and resorts in Dubai … If you want to explore the wonderful beauty of the Palm Islands cluster, you can admire from above or visit by plane, ferry, train …
Dubai Miracle Garden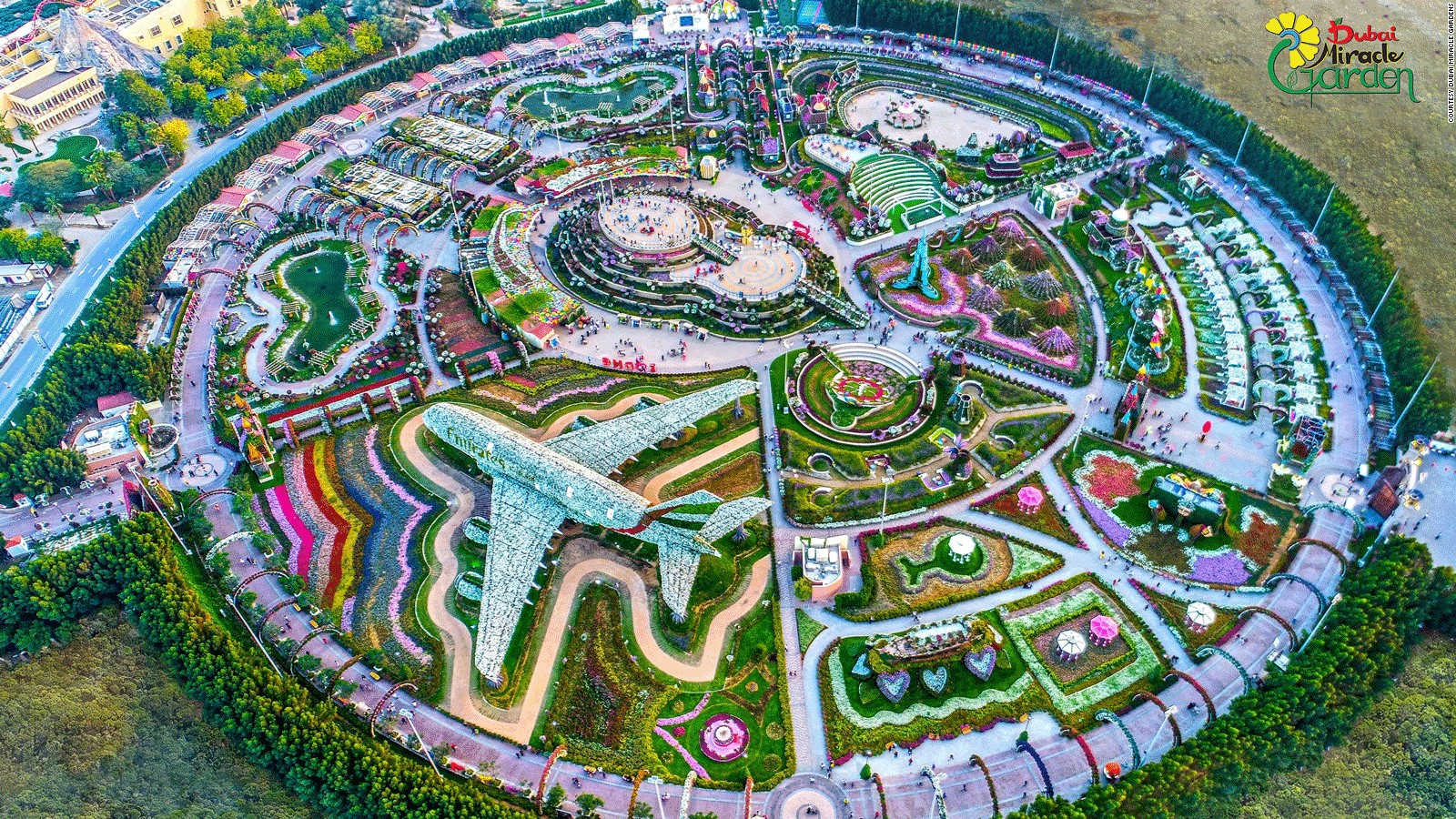 The garden first opened in 2013. It boasts the largest natural flower garden in the world, is a paradise of more than 45 million flowers on 72,000 square meters. The flowers are cleverly arranged and shaped into stars, hearts, pyramids and many other shapes. The flower patterns also change regularly according to the season, so if you have a chance to come back, you will definitely experience something completely new.
However, if you come in the summer, make an appointment for another occasion as the flower garden will close to avoid the heat of the desert summer.
Falconcity of Wonders
Falconcity of Wonders – works of scale and extremely classy on a large area of ​​up to 4 million m2, including a complex of houses, shops, academies, and sports majestic.
In addition, this place is also a park with hundreds of models of famous works in the world such as: Eiffel Tower, Great Wall, Egyptian Pyramids, Taj Mahal, Leaning Tower of Pisa,…
Ibn Battuta Mall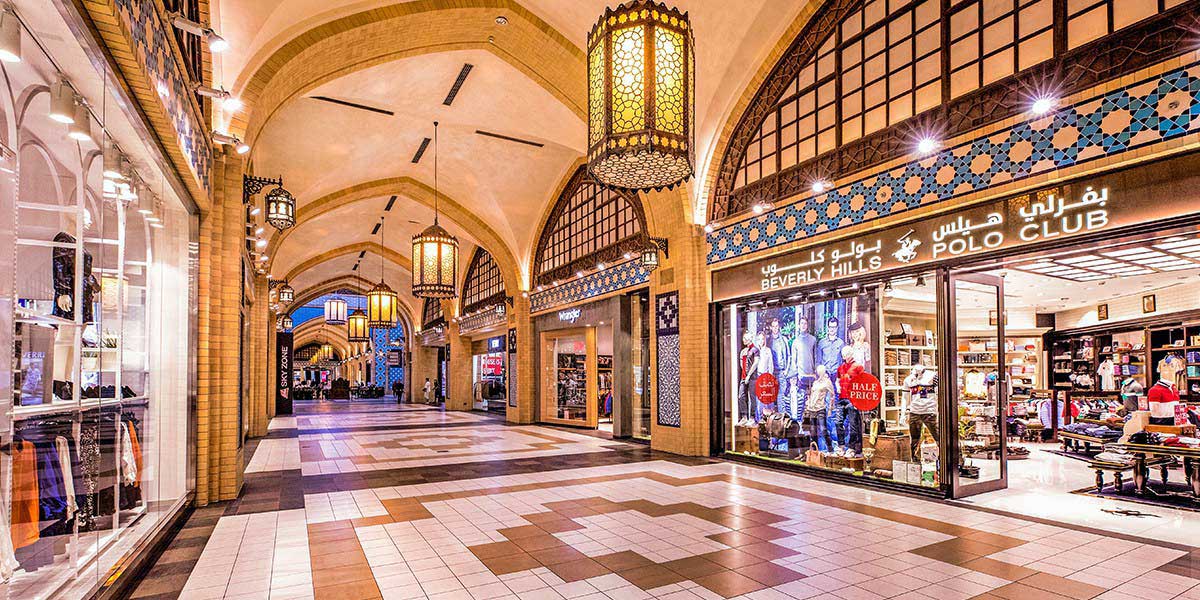 This is the world's largest themed mall and most beautiful shopping mall in Dubai, with more than 400 outlets. The Mall consists of 6 courts, and each design is inspired by some countries visited by the Moroccan Berber Explorer-Ibn Battuta. Ibn Battuta is a Muslim Berber-Moroccan scholar and explorer who widely traveled the Old world. Over a period of thirty years, Ibn Battuta visited most of the Old World, including Central Asia, Southeast Asia, South Asia, China, and the Iberian Peninsula. The Mall is now easy to access by the Dubai Metro – red line.
Meet Jecris, a Filipino graphic designer, but currently lives in Dubai. She worked in this city for more than a decade. She started her journey since 2011 and started making Youtube videos since 2014 but that time she just posting for herself and her friends. Then she notice many of her friends got interested on these videos so she got back to Youtube and posting videos publicly by 2019, until now.
"Dubai trip, yes its very different from any other trip. Dubai have promotes tolerance in many different aspects so its not hard to visit places here. Very modern city with the love of their cultures and traditions at the same time. Dubai is an open city that's why I love it, it embraces every beliefs, nationality, skin colors, languages etc. you will not feel strangers here. Many tourist places to visit, most especially the home of World's highest building. But for the residents and tourists shopping malls is a must place to visit -too. Many malls offer great features like leisure, entertainment, many wonderful architecture designs, and most mall interiors are really gorgeous and instagrammable, and of course a great shopping experience." Jecris said.
Here is a video of Jecris in Dubai, please enjoy her walkthrough as she will show you some of the highlights of the Ibn Battuta Mall.
She also shared: "Visiting dubai is not cheap, so you must be ready if you decided to come and want to experience the modern and futuristic city like this. And you must be ready for shopping galore!"
If you find Jecris's Dubai travel tips and videos helpful, subscribe her channel and don't forget to share your trips with us via info@wetravelguides.com, or our Facebook/Twitter.