Not as hustle as the modern capital Seoul, Busan beach town in the last days of the year gives travelers an indescribably relaxed and peaceful feeling.
Quiet beach on a winter day
The port city has its own qualities that every time you arrive here, you will look forward to one day coming back. This is considered the second largest city of Korea (behind Seoul), occupying the top 5 largest seaport positions in the world. Not owning places to visit is too impressive or brilliant, Busan has an ancient, serene look, enough to make people who love beauty fall in love. Referring to Busan, we will immediately think of the emerald green, enchanting beaches like Haeundae, Songdo, Gwangalli or the big fish markets, busy wharfs with boats.
The slow lifestyle in Busan …
"Busan is boring, nothing to play" is a saying I heard before coming here. The days in the beach town are not too long, but it is enough for me to confirm that it is wrong. The light is soft like a slow-motion video or the sunset goes quickly, leaving the dark night covering the wide sky. Picturesque Bridge in addition, I got a taste of the sea at Jagalchi fish market, with fresh seafood and unique local food Gamcheon mural village, Yongdusan Park with "love tower "Busan, Gwanganlli beach are equally interesting check-in places. Transportation in Busan is very developed; subway, bus are popular means of transportation.
Where to visit in Busan?
Haeundae Beach
This is Korea's largest and most beautiful beach. Haeundae Beach is also the venue for the Sand Sculpture Festival in May. Don't miss out!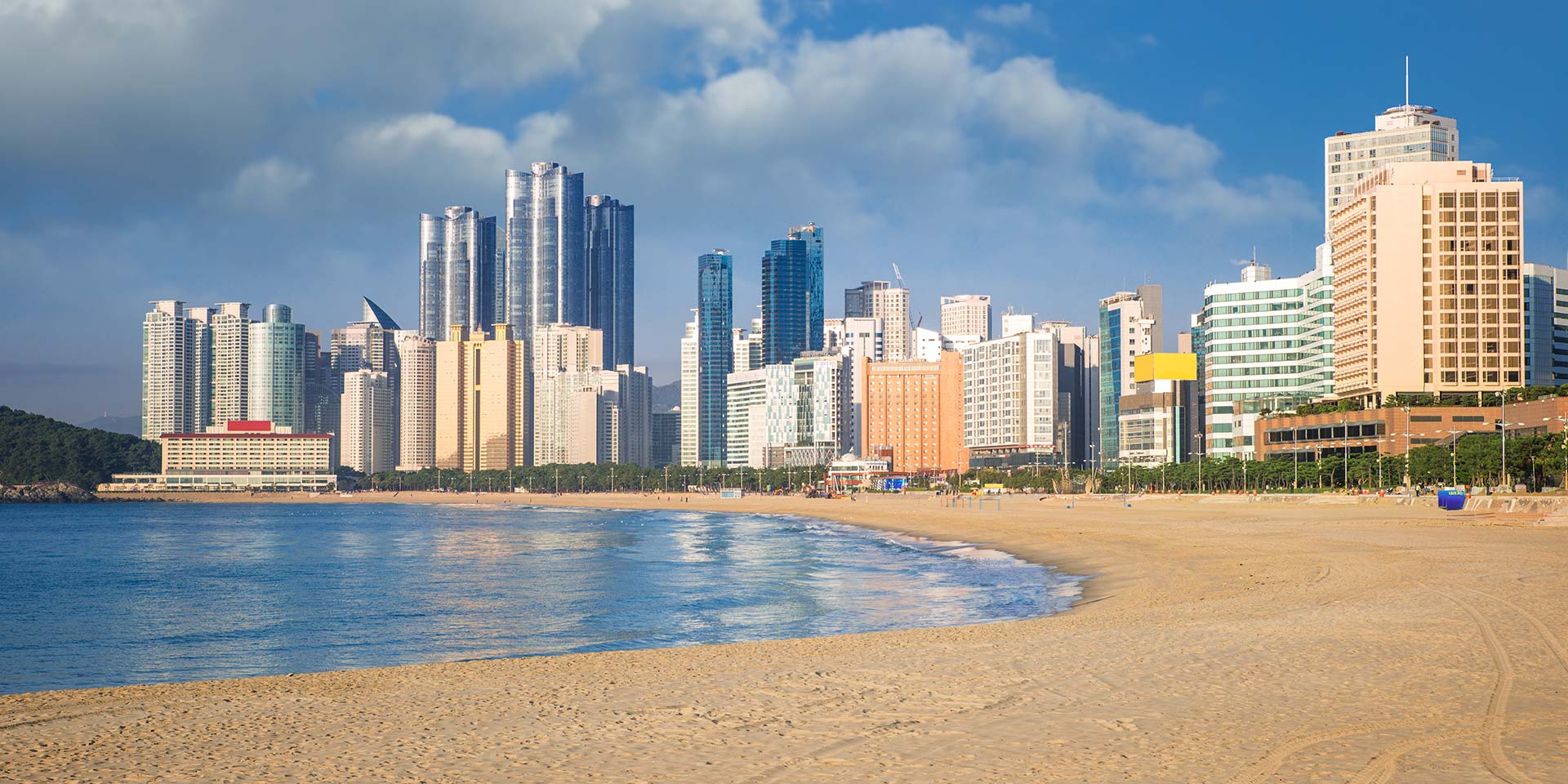 Haedong Yonggungsa
This is a very beautiful temple of Busan located on a hill overlooking the sea, a great virtual entertainment spot. The pagoda was built in 1376, near Haeundae beach. On Buddha's Birthday, the temple will have a very beautiful lantern festival.
The way to the temple is full of bustling stalls, if you are observant and lucky, you can find some unique and cheap items.
Sea Life Busan Aquarium
This is a must-go place when visiting Busan because Busan is a coastal city, so the Aquarium is meticulously and monumentally invested. Families with small children should go. There are over 35,000 marine creatures, visiting all of the aquarium takes about 2 hours and is guaranteed not to be disappointed.
Different from aquariums that show only fish, Sea Life Busan Aquarium also has highly educational activities for children to visit, teach them to appreciate and conserve aquatic resources.
Jagachi Market
Open from 8am to 10pm, this is Busan's large seafood market with a variety of fresh seafood. The market has an indoor and outdoor area. On the 2nd floor of the market is the Food Court. You can choose to buy seafood and then the uncles will cook for you to enjoy on the 2nd floor. Ending the tour of Busan with a dinner of fresh seafood is the best.
Gamcheon Culture Village
A certain place visitors must go in Busan travel is Gamcheon Culture Village. This is an old village built on terraced hills. Recently restored, beautifully painted to attract tourists and also a place for art nursery for young artists in Busan. Everything in the village is very strange and unique, you can slowly walk to discover all the coolness of the village.
Oryukdo Island – Oryukdo Skywalk
The next place in the Busan travel journey is Oryukdo, which consists of a cluster of 5-6 small islands located in the southeastern part of the Busan coast. Oryukdo has a beautiful coast, lots of seagulls, and a peaceful life. Especially to attract tourism, Oryukdo Skywalk has been built as a sea view route with a very unique glass floor, you will have the feeling of walking on the sea surface.