To begin with, Christmas is not an official holiday in Vietnam. People go to work as normal and all businesses have normal opening hours. However, due to the cultural integration of the whole world, in recent days, Christmas is getting more and more popular and is considered one of the four most important festivals in Vietnam including the Birthday of Buddhism, Mid-term Autumn Festival, and Lunar New Year.
Vietnamese Christmas celebration starts in the evening of 24th December and often last to the next day.
Nowadays, Christmas in Vietnam is greeted with enthusiasm and joy by the locals, especially those ones in the big cities such as Hanoi, Ho Chi Minh City, and Danang. They happily join the celebrations and decorate the cities.
A few weeks before the Christmas Day, many offices and shops put up elaborate ornaments with a quite Western look full of lights, bright garlands adorning Christmas trees and Santas. Many shops, as well as restaurants, offer a special promotion for this grand party.
1. Christmas in Ho Chi Minh City
Come to Ho Chi Minh City this Christmas, you can feast your eyes with the colorful streets and Catholic cathedrals. In these days, the most famous Catholic cathedrals in Ho Chi Minh City – Notre Dame Cathedral of Saigon which is located in the downtown, celebrate Christmas Eve Mass and sing hymns which are full of Christmas vibes.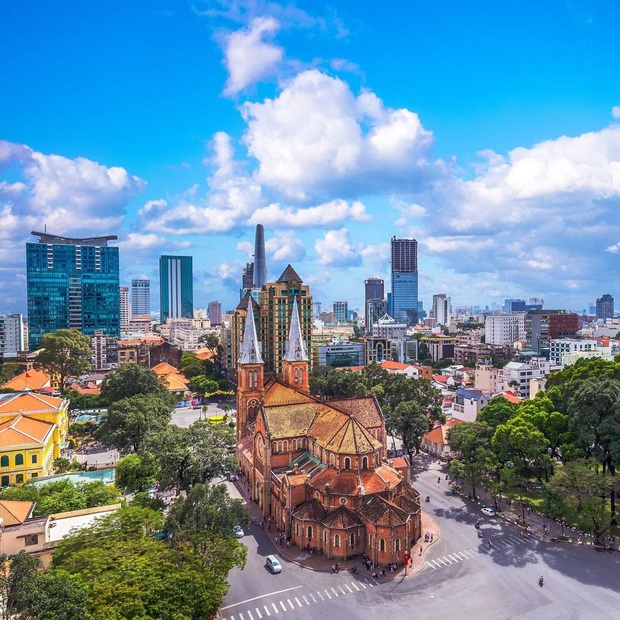 If you want to find other places to go during Christmas, don't worry there are massive choices for you.
Want to enjoy the magic of Christmas night, go to the street of light and Candles in Thanh Cong Street, visiting The Eiffel Model in Tan Phu Church or try your fortune by buying a lucky book in Book Street on Nguyen Van Binh Street or soak your soul with Christmas vibe in the Water Music Park in District 5.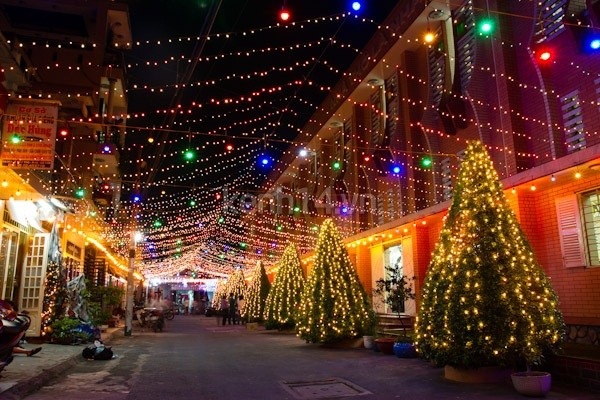 Go to Bui Vien Street, if you love crowded vibe and enjoy drinking Vietnam fresh beer with specific foods.
Just enjoy shopping, go to any shopping central. You can go to Bitexco Financial Tower – A representative icon of Ho Chi Minh City, Landmark 81 – the highest building of Vietnam, Aeon Mall Binh Tan, Diamond Plaza (District 1), Saigon Centre, Takashimaya and so on.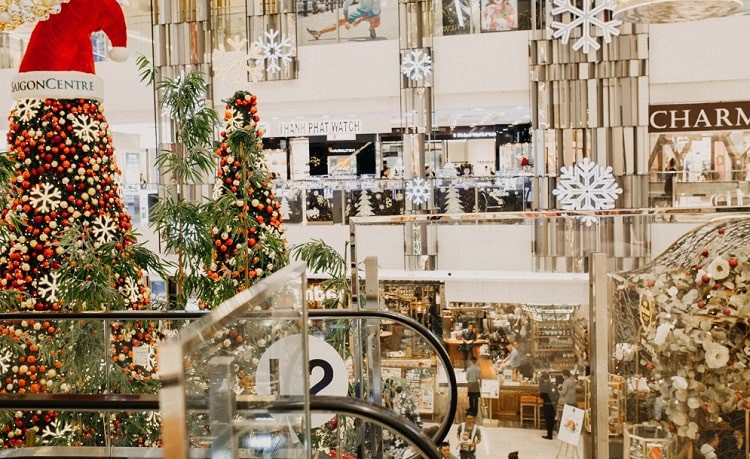 Want to enjoy Christmas in a luxury way with family, don't forget to have dinner on the special Saigon River Cruise. Christmas is an occasion for the family gathering. All members stay together, pray for a lucky new year, and then enjoying dinner with the delicious local cuisines. Then, relax on the upper deck, have a nice talk, and admire the colorful, stunning cities of lights. All of these experiences will bring you an unforgettable Christmas Eve on the waterways.
2. Christmas in Ha Noi City
In Hanoi, the weather on Christmas is colder than in Ho Chi Minh city. The temperature tends to decrease when the night falls. So make sure to bring a warm coat. On Christmas Eve, people like to wear thick coats, printed sweaters, gloves and scarf with the tones of black and red, with sparkling street lights made the city scene so colorful and striking.
The famous St. Joseph's Cathedral of Hanoi (which looks a little like that of Notre Dame de Paris) attracts many people as well as the surrounding of Hoan Kiem Lake, a very central place for gatherings among locals and foreigners.
Hang Ma, a street in the Old Quarter of Hanoi, sells all kinds of ever-changing holiday decorations and adapts quickly to the Christmas spirit as soon as the winter season starts. You can buy any Christmas ornament you want here.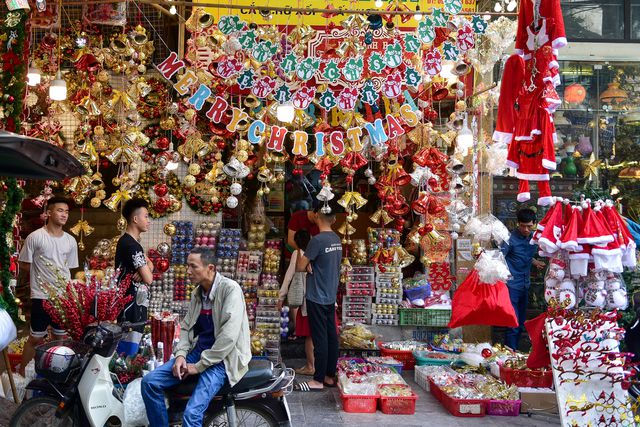 Also, on Christmas Eve and on the 25th there are several musical performances held in Hanoi, especially in the area of the French Quarter near the Opera but a show at the Opera itself is a must place to come across.